Every week, Hoops Rumors takes a closer look at players who will be free agents or could become free agents next offseason. We examine if their stock is rising or falling due to performance and other factors. This week, we take a look at players from the Southwest Division: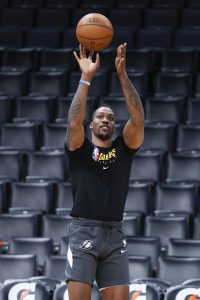 Dwight Howard, Lakers, 34, C (Up) – Signed to a one-year, $2.56MM deal in 2019
Skepticism was rampant when the Lakers brought Howard back. That included the team's front office, who gave him a non-guaranteed veteran's minimum deal. Instead of quickly wearing out his welcome, Howard has been wearing out second-unit centers. In the last three games, Howard has averaged 14 PPG and 15 RPG. Injuries limited Howard to nine games with Washington last season but the future Hall-of-Famer has proven he can accept a bench role and still have a major impact on a contending team. He'll get significantly more than the veteran's minimum this summer.
Nemanja Bjelica, Kings, 31, PF (Up) – Signed to a three-year, $20.5MM deal in 2018
When Bjelica gets rolling, he can be an offensive force. Orlando learned that lesson on Monday when he erupted for 34 points. He's also had 27- and 30-point games for the Kings this season. Bjelica started regularly for Sacramento last season but he's turned it up a notch in his second season there, averaging career highs in points (12.2 PPG), rebounds (6.6 RPG) and assists (2.5 APG) while making 43.4% of his long-range attempts. The Kings can retain Bjelica's services by guaranteeing his $7.15MM salary prior to free agency. He's making that an easy decision.
Maurice Harkless, Clippers, 26, SF (Up) – Signed to a four-year, $42MM deal in 2016
Being the fifth option on the court, especially on a team loaded with scorers like the Clippers, can be tough for many players to accept. Harkless embraces that role, which is why he's a steady presence in the rotation. He's averaging 5.5 PPG while playing 22.8 MPG due to his limited opportunities. Harkless' defensive rating has jumped this season, why is why Doc Rivers keeps calling his number. Harkless is making $11MM this season prior to unrestricted free agency. He'll have to take a pay cut this summer but he'll find a second-unit job in the open market.
Dario Saric, Suns, 25, PF (Down) – Signed to a four-year, $10.75MM deal in 2016
Saric's NBA career has gone south after a promising second season in Philadelphia in which he averaged 14.7 PPG and 6.7 RPG while making 39.3% of his 3-pointers. Saric was included in the Jimmy Butler deal with Minnesota last season and was later sent to Phoenix in a draft-night trade. His playing time has fallen substantially this month, including a couple of games in which he barely left the bench. Phoenix can make him a restricted free agent by extending a $4.79MM qualifying offer. It's likely the Suns will seek an upgrade at power foward and allow Saric to move on.
Alec Burks, Warriors, 28, SG (Up) – Signed to a one-year, $2.32MM deal in 2019
Burks scored 25 points in an overtime loss to the Nuggets on Thursday after shooting 27.7% from the field and 29.2% from 3-point range in his previous five games. He's averaging 15.9 PPG but that's mainly a product of opportunity on a bad team. He's taking a career-high 12.4 shots per game, including 4.5 from long range. On the flip side, Burks settled for a veteran's minimum contract last season. He's done enough to get a better offer as a second-unit scorer, though he's not going to make $10MM-plus as he did the previous three seasons.
Photo courtesy of USA Today Sports Images.