JANUARY 15: It happened one day later than initially expected, but Silva has officially signed his new NBA contract with the Heat, the team announced today (Twitter link). Miami can now move forward with its two-way deal for Kyle Alexander.
JANUARY 13: The Heat intend to promote Chris Silva to their 15-man roster on Tuesday, ending his two-way contract and finalizing a new three-year deal, according to Barry Jackson of The Miami Herald (Twitter link).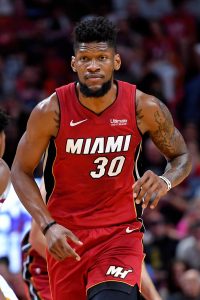 The move has long been expected, as Silva has outplayed his two-way deal this season and Miami has an open roster spot on its 15-man squad. Jackson reported over the weekend that the move was coming, while cap expert Albert Nahmad (Twitter link) predicted a three-year contract would be finalized by Wednesday.
Because they're only $855K away from their hard cap, the Heat have thus far been unable to promote Silva, but they'll be able to do so on Tuesday — at that time, a prorated minimum-salary contract for him will only count for about $851K for tax purposes.
Miami will use a portion of its mid-level exception to complete a three-year deal, which will give the team Bird rights on Silva in 2022 if he plays out the full contract. It's unclear how much – if any – money will be guaranteed beyond 2019/20.
Silva, 23, has already appeared in 30 games for Miami this season despite being on a two-way contract, as the club has maximized his 45-day NBA limit. The forward is averaging 3.5 PPG and 3.1 RPG with a .691 FG% in 8.3 minutes per contest.
By converting Silva's contract before January 15, the Heat will have the opportunity to add a second two-way player to their roster in advance of Wednesday's deadline. Currently, Gabe Vincent occupies the team's other two-way contract slot.
Photo courtesy of USA Today Sports Images.