Over the course of the 2019/20 NBA season, up until February's trade deadline, we're keeping an eye on potential trade candidates from around the NBA, monitoring their value and exploring the likelihood that they'll be moved. Each of these looks at possible trade candidates focuses on a specific division, as we zero in on three players from that division.
If the Rockets and Mavericks make moves before the trade deadline, they'll likely be looking to shore up their rosters in order to make a push to secure a top-four seed in the West. However, in today's look at Southwest trade candidates, we're focusing on the division's other three teams, whose approaches to the deadline remain unclear. Let's dive in…
DeMarre Carroll, F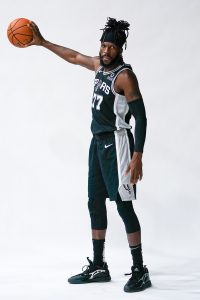 San Antonio Spurs
$7MM cap hit; $6.7MM guaranteed salary in 2020/21; $7MM non-guaranteed salary in 2021/22

Nearly a month ago, Carroll acknowledged that he wasn't playing as much this season as he expected to when he joined the Spurs last summer, and admitted that accepting his reduced role had been "difficult." Since then, the veteran forward has appeared in four games, logging fewer than 15 total minutes.
There's been no indication that Carroll has asked the Spurs to trade him, but given his lack of playing time and the team's up-and-down play this season, it seems safe to assume he wouldn't object to a change of scenery.
Carroll's value has probably taken a hit due to his absence from San Antonio's lineup and his small-sample struggles. The Spurs also aren't historically very active on the trade market during the season — their last in-season trade was completed in 2014, and that Nando De Colo/Austin Daye swap wasn't exactly a blockbuster.
With those factors working against a deal, Carroll will probably end up staying put through the deadline. But if San Antonio does make a move, a smaller-scale trade involving a player like Carroll seems more likely than a franchise-changing shake-up involving someone like DeMar DeRozan or LaMarcus Aldridge.
Jae Crowder, F
Memphis Grizzlies
$7.8MM cap hit; UFA in 2020

Crowder looked like a more logical trade candidate back on December 7, when the Grizzlies were 6-16 and seemed safely lottery-bound. For teams who perhaps couldn't afford Andre Iguodala's $17MM salary but were seeking a playoff-tested three-and-D wing, Crowder and his expiring contract made all the sense in the world as a potential target.
Since then though, Memphis has won 13 of 19 games, jumping all the way up to No. 8 in the Western Conference, and Crowder has had a major hand in that resurgence, as no Grizzlies player has played more minutes so far this season.
Crowder's play has earned him "renewed attention" from possible suitors, according to John Hollinger of The Athletic. However, Hollinger doesn't think the Grizzlies will receive an offer so strong that they'll feel compelled to move him — especially since re-signing the forward at season's end isn't entirely out of the question. At age 29, Crowder isn't necessarily too old to play alongside the franchise's young core for a few more years.
Derrick Favors, F/C
New Orleans Pelicans
$17.7MM cap hit; UFA in 2020

Like Crowder, Favors is a veteran on an expiring contract who would fit right in on a contender and has been monitored by teams this season. But a handful of factors – including a recent hot streak, a close race for the West's No. 8 seed, and Zion Williamson's impending return – all point toward the Pelicans deciding not to become sellers this winter.
After all, the Pelicans' 9-3 stretch – following a 7-23 start – has pulled them within 3.5 games of the Grizzlies for that eighth spot in the conference, and selling off veterans now would dampen fans' rising enthusiasm for the team.
Assuming the Pelicans plan to push for a spot in the postseason, Favors is the team's most reliable option at the five, as he showed with his 21-point, 11-rebound performance in Thursday's win over Utah. That's not to say a trade is out of the question, as Favors is probably more likely to be moved than Jrue Holiday or J.J. Redick. But I get the sense that David Griffin would like to see what this squad can do when it's fully healthy and may wait until the offseason to make any serious changes.
Revisit the rest of our 2019/20 Trade Candidate series right here.
Photo courtesy of USA Today Sports Images.