1:58pm: The Warriors and Lee are working to finalize a multiyear deal that will includes partial guarantees in future seasons, sources tell Wojnarowski (Twitter link). The team could offer Lee up to a four-year deal using its mid-level exception.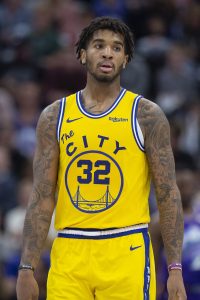 7:35am: The Warriors completed a somewhat surprising roster move late on Monday night, waiving big man Marquese Chriss, according to Anthony Slater of The Athletic (Twitter link). Using the newly-available roster spot, Golden State will promote two-way player Damion Lee, giving him a standard contract, per ESPN's Adrian Wojnarowski (Twitter link).
With only 14 players on their 15-man roster before cutting Chriss, the Warriors technically already had a roster spot available to promote Lee. However, the club's flexibility was limited by its hard cap — with only about $375K in breathing room, there wasn't enough space to give Lee a prorated minimum salary contract without waiving Chriss, whose salary wasn't fully guaranteed.
By releasing Chriss in advance of today's guarantee deadline, Golden State will reduce his cap hit from $1,620,564 to $758,804, tweets ESPN's Bobby Marks. Lee's cap hit for the remainder of the season, if he signs on Tuesday, will be $915,573, moving the Warriors slightly closer to their hard cap.
The team will retain its open 15th roster spot, which could still be used later in the season – perhaps on two-way player Ky Bowman – once the prorated minimum salary declines to the point where it would fit beneath the hard cap.
As Slater explains in a full story at The Athletic, parting ways with Chriss wasn't an easy decision for the Warriors, or a popular one within "some pockets of the organization." A former lottery pick, Chriss is just 22 years old, was well-liked in the locker room, and had played well in a part-time role this season, with 7.4 PPG, 5.4 RPG, and 1.9 APG in 37 games (17.7 MPG).
However, according to Slater, when Lee agreed to return to the Warriors during the 2019 offseason, he did so with an understanding that he wouldn't be spending any real time in the G League, and would get a standard roster spot once he exhausted his 45-day NBA limit. Lee has just two of those 45 days remaining, necessitating a move.
In an ideal world, the Warriors would've kept both Lee and Chriss, Slater notes. Golden State may have preferred to create space for both players by trading a minimum-salary veteran like Alec Burks or Glenn Robinson III, but with no deal in place, today's salary guarantee deadline forced the club's hand on Chriss.
There's still a chance Chriss could be back at some point — Monte Poole of NBC Sports Bay Area tweets that Golden State definitely hasn't lost interest in him. But there's no guarantee that another team won't scoop him up as a free agent, or even via a waiver claim.
"They said it's been a tough decision," Chriss told Slater, after learning of his release. "It is what it is. I've accomplished a lot. I've shown what I'm capable of. I've shown I belong. People make business decisions."
Photo courtesy of USA Today Sports Images.