The NBA's 2020 buyout period will come to an unofficial end in less than a week, so before it does, we're checking in on where things stand and which players may still shake loose. Let's dive in…
When must a player be released by to retain his playoff eligibility?
Anyone who is waived by the end of the day (11:59pm ET) on March 1 will be postseason-eligible if he subsequently signs with a new team. A player who is waived after March 1 won't be eligible to play in the postseason, unless he was released from a 10-day – rather than a standard – contract.
Does a player also need to sign by March 1 to be playoff-eligible for his new team?
Nope. A player could sign with a new team on the very last day of the regular season and still be eligible to participate in the postseason, as long as he was waived by his previous team on or before March 1.
[RELATED: Hoops Rumors Glossary: Buyouts]
Which players are already off the board?
As our 2020 buyout market recap shows, a handful of intriguing veterans who were bought out or released earlier in February have already found new NBA homes.
Michael Kidd-Gilchrist signed with the Mavericks; Marvin Williams joined the Bucks; DeMarre Carroll landed with the Rockets; Reggie Jackson is a Clipper; and Markieff Morris headed to the Lakers. Jeff Green, who was released earlier in the season, is currently on a 10-day contract in Houston.
So who's still out there?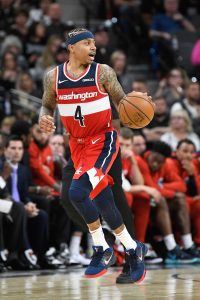 The list of remaining free agents isn't as interesting as the group of players who have already signed, but there are some notable names on the market. Isaiah Thomas, Trey Burke, Dion Waiters, or Ryan Anderson might appeal to a team in need of some offensive punch. Tyler Johnson and Iman Shumpert are available for clubs seeking an extra wing.
There are also some wild cards on the free agent list. Nene is out there, but he hasn't played in a game this season and it's not clear if he's healthy enough to contribute. J.R. Smith is available, but hasn't played an NBA game since November 2018.
In addition to Smith, there are a number of other veterans on the market who haven't played in the NBA this season but still could be looking to make comebacks. Jamal Crawford, Jonathon Simmons, and Joakim Noah are among the players who fit that bill.
Are there any other appealing targets that could become available in the next week?
Here's a brief list of players we singled out in our recap as possible buyout candidates:
Most of these guys probably won't reach the open market, but they're all on expiring – or pseudo-expiring – contracts and may not have a long-term future with their current teams. As such, they're worth monitoring. There are players not mentioned here who may also emerge as buyout candidates in the coming days. If the Knicks change their stance on buying out veterans, for instance, at least a couple of their players could be added to this list.
The one player in this group, in my opinion, who could seriously move the needle for a playoff team is Thompson. A team like the Clippers or Celtics could really benefit from having a big, reliable center like him in the rotation. However, there has been no indication that the Cavaliers will pursue a buyout for Thompson or that he's pushing for one.
Remaining on Cleveland's roster for the rest of the season would allow Thompson to retain his Bird rights this summer, perhaps opening the door for a sign-and-trade opportunity that would allow him to maximize his free agency opportunities — and earnings.
Our 2020 buyout market recap will continue to be updated through March 1, so be sure to keep an eye on it over the next week.
Photo courtesy of USA Today Sports Images.