Every week, Hoops Rumors takes a closer look at players who will be free agents or could become free agents next offseason. We examine if their stock is rising or falling due to performance and other factors. This week, we take a look at players from the Southeast Division: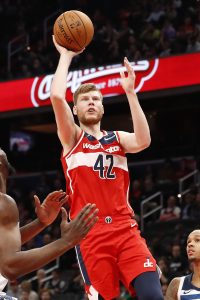 Davis Bertans, Wizards, 27, PF (Up) – Signed to a two-year, $14.5MM deal in 2018
The fact that the Wizards set such a high price on the unrestricted free agent, reportedly asking for two first-rounders and possibly more, shows how much Bertans is valued by the organization and other clubs. He's averaging 15 PPG, albeit for one of the league's worst teams, but his 3-point shooting is craved around the league. Big guys who can shoot 42.9% from deep, as Bertans has the past two seasons, command a high price tag. Washington desperately wants to re-sign Bertans and hopes the loyalty it showed will have an impact this summer. But the Wizards will have plenty of competition for his services.
Treveon Graham, Hawks, 26, SG (Down) – Signed to a two-year, $3.16MM deal in 2018
Graham was tossed into the deal that sent Allen Crabbe to the Timberwolves last month. Perhaps the only thing surprising about Graham is that he wasn't thrown into another trade by the very active Atlanta front office. He received steady playing time with Minnesota (20.1 MPG), including 20 starts, but his impact on the Hawks has been minimal. He's scored a total of 12 points in nine appearances. Graham just isn't enough of an offensive threat and defenses don't have to respect him on the perimeter. He becomes an unrestricted free agent at the end of the season and he'll be looking at minimum deals at best.
Michael Kidd-Gilchrist, Hornets, 26, SF (Down) – Signed to a four-year, $52MM deal in 2016
Oh, how the mighty have fallen.. Yes, the second overall pick in the 2012 draft is still in the league. In fact, he's just 26 years old. Injuries sidetracked MKG's career but a bigger issue is his lack of an offensive game. Ben Simmons can get a max contract without a 3-point shot because of his wondrous playmaking skills and defensive versatility. A 6'6" forward without an outside shot is a dinosaur into today's NBA. MKG has appeared in just 12 games this season and hasn't seen the floor since late December. Charlotte's front office is just counting the days to get his contract off its books.
Jae Crowder, Heat, 29, SF (Up) – Signed to five-year, $35MM deal in 2015
Crowder was quietly enjoying one of his best seasons with the Grizzlies before getting dealt to Miami just before the deadline. He started regularly for Memphis despite modest offensive numbers (9.9 PPG on 36.8% shooting), finding other ways to contribute. He was averaging career highs in rebounding (6.2 RPG) and assists (2.8 APG) along with playing his usual solid defense. It will be interesting to see how coach Erik Spoelstra incorporates Crowder into the rotation but the impending unrestricted free agent will get an opportunity to show his value on a now serious Eastern Conference contender.
James Ennis, Magic, 29, SF (Down) – Signed to a two-year, $4MM deal in 2019
Ennis' playing time had diminished before the Sixers, who acquired perimeter shooters from the Warriors, found a new home for the journeyman forward. The Magic were willing to give up a second-round pick in order to secure Ennis' services. Orlando president Jeff Weltman said Ennis will add "shooting, athleticism, and toughness" to the team, so from all indications he'll jump right into the rotation. Ennis is an adequate perimeter shooter and a factor in the open floor. Ennis holds a $2.13MM player option on his contract next season and could choose to opt out with a strong finish.
Photo courtesy of USA Today Sports Images.