The Hawks are waiving Chandler Parsons and his expiring contract, reports ESPN's Adrian Wojnarowski (via Twitter).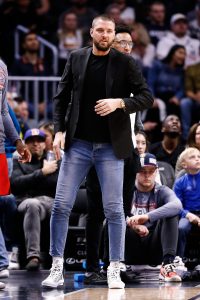 The move will allow Atlanta to complete its part of a four-team trade with the Wolves, Rockets, and Nuggets. The Hawks, who had a full 15-man roster, are sending out Evan Turner in the deal and taking back Clint Capela and Nene, so a corresponding move was necessary. The club could subsequently open up its 15th roster spot if it decides to release Nene after acquiring him.
Parsons, 31, signed a four-year, maximum-salary contract with the Grizzlies back in 2016, but dealt with injury issues throughout the deal and was never able to deliver on the promise he showed earlier in his career. He was sent from Memphis to Atlanta during the 2019 offseason in exchange for Solomon Hill and Miles Plumlee, but appeared in just five games for the Hawks this season and was moved to the inactive list along with Evan Turner last month as the organization focused on developing its young players
Parsons was involved in a car accident in January when his vehicle was struck by a drunk driver. Although the Hawks initially announced he had been diagnosed with a concussion and whiplash, Parsons' lawyers issued a statement indicating that the veteran forward had suffered more serious injuries in that accident, including a traumatic brain injury, disc herniation, and a torn labrum. The injuries may jeopardize Parsons' career, according to his attorneys.
While Parsons likely wouldn't have been a candidate for more than a minimum-salary contract next season anyway, it would be a shame to see that car accident prematurely end his playing career. Hopefully he's able to get healthy and return to the court before eventually retiring on his own terms.
Parsons' cap hit for this season is $25.1MM. That figure will remain on Atlanta's books, but since it was an expiring contract, the team won't be on the hook for any money beyond this season.
Photo courtesy of USA Today Sports Images.