FEBRUARY 5: The trade is now official, with Twitter announcements from the Rockets, Timberwolves and Nuggets confirming the deal. Atlanta also formally waived Chandler Parsons to accommodate the trade, as detailed earlier.
FEBRUARY 4: The Timberwolves, Hawks, Rockets, and Nuggets are in agreement on a massive four-team trade, according to ESPN's Adrian Wojnarowski (Twitter link). Shams Charania of The Athletic first reported (via Twitter) that the four clubs were close to reaching a deal, while Woj says (via Twitter) the players involved are now being informed.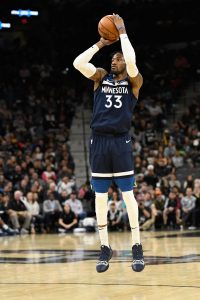 According to Wojnarowski (Twitter link), Charania (Twitter links), Jon Krawczynski of The Athletic (Twitter link), and Jonathan Feigen of The Houston Chronicle (Twitter link), the trade looks like this:
There have been rumors for the last several days suggesting that a trade like this one could be in play. An earlier variation had the Warriors in Denver's place, with the Wolves pursuing D'Angelo Russell, but Golden State backed off those talks earlier on Tuesday, leaving Minnesota, Houston, and Atlanta to work out a new agreement.
Let's break down how the deal will impact each team…
Houston Rockets:
Daryl Morey's group has long been on the lookout for an upgrade on the wing, and they'll get their man in Covington, a three-and-D specialist who is on a team-friendly contract that's worth $11.3MM this season and runs through 2021/22.
The Rockets gave up two valuable assets in Capela and their 2020 first-round pick to bring in Covington, Bell, and a second-round pick. By moving Nene and Green in the deal, the team will also move well below the luxury-tax line, which would be a favorable outcome for ownership — while Tilman Fertitta has claimed to have signed off on the club being a taxpayer, it looks like this could be the second straight season that the Rockets sneak out of the tax at the deadline.
On the other hand, as Wojnarowski points out (via Twitter), the structure of the deal would allow Houston to take back up to another $12MM in salary. So until the trade is made official, there's a window for the Rockets to potentially expand it even further to include another team and player, assuming they find a suitable target, agree on compensation, and are willing to go back into the tax. That won't be easy, however.
While Bell could play some minutes at the five, the Rockets will remain on the lookout for a more reliable replacement for Capela, either via a trade or on the buyout market, tweets Jonathan Feigen of The Houston Chronicle. Houston's go-to lineup will feature P.J. Tucker at center, but the team still wants a more traditional big to match up with star bigs in the playoffs, notes Tim MacMahon of ESPN (via Twitter).
MacMahon also adds (via Twitter) that Green, who is likely out for the season with a broken foot, had the ability to veto his inclusion in this trade, but won't do so.
The move will reduce the Rockets' roster count to 13 players on standard contracts, so the team will have two weeks to get back up to the NBA's required minimum of 14 players.
Denver Nuggets:
The Nuggets were said to be seeking a first-round pick for Beasley and a second-round pick for Hernangomez, their two restricted-free-agents-to-be. They won't quite meet that asking price, but they'll at least get the first-rounder they were looking for, acquiring Houston's 2020 pick in the deal.
In addition to sending out Beasley and Hernangomez, Denver also moved Vanderbilt and will bring back four players: Green, Bates-Diop, Napier, and Vonleh. The team had an open spot on its 15-man roster, so no one will have to be waived, though MacMahon reports (via Twitter) that Green is expected to be cut after the trade is official, once again opening up that last roster spot.
As ESPN's Adrian Wojnarowski observes (via Twitter), Napier and Vonleh are capable of playing rotation minutes and providing depth off the bench for the Nuggets. Bates-Diop will probably be further down on the depth chart. Napier and Vonleh will be unrestricted free agents at season's end, while KBD has a non-guaranteed minimum salary for 2020/21.
Having previously traded away their own 2020 first-round selection for Jerami Grant, the Nuggets can get back into this year's draft with Houston's first-rounder. Of course, with Wojnarowski suggesting Denver will continue to be active before Thursday's deadline, that pick could theoretically be flipped in another move.
Atlanta Hawks: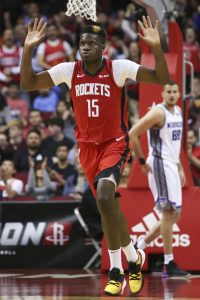 The Hawks have been linked to several centers over the course of the season, reportedly expressing interest in Andre Drummond, Steven Adams, and Dewayne Dedmon, among others. In recent days, the club appeared to be zeroing in on Capela, a big man whose rim-running ability will complement Trae Young on offense and whose rim-protecting ability could help bail out Young on defense.
Atlanta will surrender Turner's expiring contract, Brooklyn's lottery-protected 2020 first-round pick, and an extra future second-round pick in order to lock up Capela. The move will give the Hawks some cost certainty in the middle — Capela, who has a $14.9MM cap hit in 2019/20, has three more years and about $51.3MM left on his contract after this season. He won't be eligible for free agency until the summer of 2023.
Acquiring a center now rather than waiting until the summer and trying to land one in free agency will give the Hawks the opportunity to evaluate how Capela looks next to big man John Collins. A heel injury is currently nagging Capela, but it's not believed to be an issue that jeopardizes the rest of his season.
A 2017 first-round pick, Collins will be eligible for a rookie scale extension during the 2020 offseason. If he meshes with Capela down the stretch, Atlanta would likely be more willing to invest heavily long-term in Collins, who is expected to seek the max or something close to it.
As ESPN's Bobby Marks tweets, the Hawks are currently carrying 15 players, so they'll have to waive or trade someone in order to take back both Capela and Nene for Turner, even if they intend to eventually release Nene.
Minnesota Timberwolves:
Although the Timberwolves probably would have preferred to get the Warriors involved in this deal to acquire Russell, they'll get a handful of intriguing assets in exchange for Covington and several low-cost role players (Bell, Bates-Diop, Napier, and Vonleh).
Beasley and Hernangomez will both be eligible for restricted free agency this summer, which will give the Wolves the chance to match any offer sheet they sign. Neither player had been great this season in Denver, as a crowded depth chart pushed them out of the rotation at times, but they both had solid seasons in 2018/19.
Beasley averaged 11.3 PPG with a .474/.402/.848 shooting line in 81 games (23.2 MPG) a year ago, while Hernangomez averaged 5.8 PPG and 3.8 RPG on .439/.365/.767 shooting in 70 games (19.4 MPG). The Nuggets explored contract extensions last fall with both players, reportedly offering Beasley $30MM over three years, but they didn't reach a deal with either one. Now the Wolves will have the opportunity to evaluate them during the season's final two months and decide whether they're part of the franchise's long-term plans.
In addition to acquiring those two Denver players – and a little-used project in Vanderbilt – the Timberwolves take on Turner's $18.6MM expiring contract, generating some extra cap flexibility for the 2020 offseason by moving off Covington's guaranteed money. They also secured Brooklyn's lottery-protected 2020 first-round pick, which could end up at No. 15 or 16 if the Nets hang onto a playoff spot this spring.
This move doesn't necessarily affect the Wolves' plans to revisit a Russell trade with the Warriors, though like Allen Crabbe, Turner can't be aggregated with another player in a deadline deal to match D-Lo's salary. That Brooklyn first-round pick figures to be one of the assets Minnesota dangles in any offer for Russell.
Like Houston, Minnesota will have two openings on its 15-man roster once this trade is finalized, and will have up to two weeks to get back up to 14 players, the league's required minimum.
Photos courtesy of USA Today Sports Images.