9:21pm: It's a done deal, with the Cavaliers and Pistons both issuing press releases to confirm the trade. Detroit announced in a separate release that, as expected, Frazier has been waived to make room on the roster for the incoming players.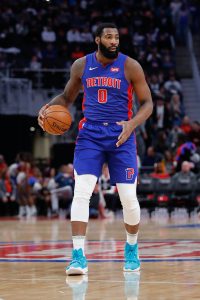 1:19pm: The Cavaliers are finalizing a trade with the Pistons that will see them acquire center Andre Drummond, a league source tells ESPN's Adrian Wojnarowski (Twitter link).
According to Kevin O'Connor of The Ringer (via Twitter), Detroit will receive Brandon Knight and John Henson, both of whom are on expiring contracts. Cleveland will also send the Pistons a second-round pick, per O'Connor.
The pick will be the lesser of Cleveland's 2023 own pick or the 2023 second-rounder Golden State owes the Cavaliers, Chris Fedor of Cleveland.com tweets.
Drummond, the league's premier rebounder, holds a $28.75MM option on his contract for next season and he's expected to opt out and test a weak free agent market. The Pistons reportedly were prepared to retain Drummond after talks with the Hawks and Knicks fell through but ultimately decided to move on and go into rebuild mode. Detroit was looking for a first-round pick for Drummond but settled on the second-rounder, along with those expiring contracts.
The modest haul for Drummond was surprising but Detroit's front office wanted to avoid the possibility of Drummond opting in, O'Connor adds in another tweet. It also gives Cleveland the opportunity to see how Drummond meshes with the young backcourt of  Collin Sexton and Darius Garland.
The Pistons will now have approximately $35MM in cap space this summer, Bobby Marks of ESPN tweets. Cleveland will be close to the cap if Drummond opts in or re-signs with the starting salary in the $29-$30MM range, Marks adds.
Knight is making approximately $15.64MM and Henson has a $9.73MM contract, so the Pistons will shave some money off this year's cap. They were perilously close to the luxury tax line prior to the proposed deal. Detroit was less than $4,000 under the tax line but moves to $1.7MM under the threshold via this trade, according to Marks (Twitter link).
Drummond has a $857K trade bonus that will be applied to his $27.1MM cap hit for this season, Marks relays in another tweet. Drummond, who has spent his whole career with Pistons since being chosen in the 2012 lottery, is averaging 17.8 PPG and an NBA-best 15.8 RPG this season.
The Pistons will have to open up a roster spot before making the trade official since it is at the 15-man limit. It's likely that Tim Frazier, who has served as the No. 3 point guard behind Derrick Rose and Reggie Jackson, will be waived unless Detroit makes another trade, Vince Ellis of the Detroit Free Press tweets.
Photo courtesy of USA Today Sports Images.