The Warriors have officially traded star guard D'Angelo Russell to the Timberwolves, the teams announced in a pair of press releases. Minnesota has also acquired big man Omari Spellman and guard Jacob Evans along with Russell.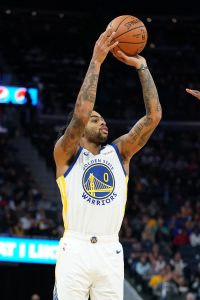 In exchange, Golden State receives swingman Andrew Wiggins, a protected 2021 first-round pick, and a 2021 second-round pick. The 2021 first-rounder headed to Golden State will be Minnesota's own top-three protected pick. It would become unprotected in 2022 if it doesn't convey next year.
The Wolves' acquisition of Russell represents the culmination of a pursuit that dates back at least to the 2019 free agent period, when the team made D-Lo its top target and offered him a lucrative four-year contract. Minnesota had hoped to pair the All-Star guard with his good friend Karl-Anthony Towns, but were passed over when the Warriors swooped in with a four-year, max-salary offer. Seven months later, Timberwolves president of basketball operations Gersson Rosas got his man.
The blockbuster deal comes at a good time for the Wolves, who have struggled mightily since their 10-8 start, and for Towns, who – after Wednesday's game – publicly expressed his frustration with all that losing. Towns was also believed to be disappointed by the departure of Robert Covington, who was one of his best friends on the team, so Minnesota will hope that the arrival of Russell can help rejuvenate the big man's enthusiasm — and get the Wolves a few more wins down the stretch.
The Timberwolves will now enter the summer with a pair of 24-year-old cornerstones on long-term contracts, as Russell is locked up through 2023 and Towns through 2024. They also still have their own 2020 first-round pick, as well as Brooklyn's lottery-protected first-rounder. So they'll have the opportunity to bring in a pair of promising prospects or use those picks in trades to further upgrade the roster.
The deal does put the Wolves slightly into tax territory, ESPN's Bobby Marks reports (via Twitter), so another move could be forthcoming.
Meanwhile, it's a fascinating pivot for the Warriors, who were said to be seeking a first-round selection in 2021 rather than 2020, since next year's draft class is expected to be stronger than this year's. The Wolves reportedly put their own 2020 protected pick and Brooklyn's lottery-protected pick on the table in a previous offer, but it appears Golden State was willing to accept just a single first-rounder now that it's a lightly-protected 2021 pick.
Besides the first-round pick and accompanying second-rounder, the Warriors get two things out of the deal: The first is Wiggins, whose max-salary contract had been widely considered a negative. According to Anthony Slater of The Athletic (Twitter link), however, there's a contingent within the Warriors who believe that Wiggins is a "salvageable project." Slater believes the deal will ultimately be judged on whether Golden State can turn Wiggins into the team's long-term starting small forward or eventually flip him for positive value.
The second perk for the Warriors is that the deal should allow them to sneak out of the tax for this season, which will help them avoid current and future repeater penalties. Marks tweets that the team will be $3.1MM below the tax threshold and should be able to stay below that line even after filling out its roster. Golden State will have six open roster spots, necessitating at least five eventual additions, but the club will be able to stagger those signings to some extent.
ESPN's Adrian Wojnarowski first broke the news and reported the terms of the trade (all Twitter links).
Photo courtesy of USA Today Sports Images.