4:18pm: Bickerstaff's new deal will run through the 2023/24 season, according to ESPN's Adrian Wojnarowski (via Twitter).
3:01pm: After replacing John Beilein as the Cavaliers' head coach last month, J.B. Bickerstaff has received a longer-term commitment from the team, according to Chris Fedor of Cleveland.com, who reports (via Twitter) that the Cavs and Bickerstaff have reached an agreement on a multi-year contract.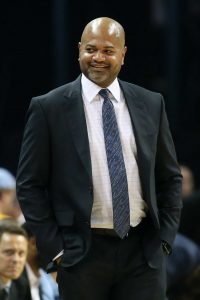 The Cavaliers signed Beilein to a four-year contract with a fifth-year team option last spring, but the veteran college coach didn't even make it through the first season of that deal. Beilein's brief, challenging stint in Cleveland came to an end when he stepped down as the team's head coach at the All-Star break in February, with Bickerstaff taking over the job.
Multiple reports have indicated that Bickerstaff was viewed as Beilein's eventual successor when the Cavs hired him as their associate head coach in 2019. While the club didn't expect the transition to happen so soon, today's agreement – which comes on Bickerstaff's 41st birthday – signals that Cleveland was serious about its new head coach not just being an interim replacement.
This is the third time that Bickerstaff has taken over for a head coach partway through a season. He went 37-34 with the Rockets in 2015/16 after stepping in for Kevin McHale, then had a 48-97 record with the Grizzlies across two seasons after he replaced David Fizdale in 2017.
So far in Cleveland, Bickerstaff has done an admirable job with one of the NBA's worst teams, leading the Cavaliers to a 5-5 record since taking the reins from Beilein. The team has won games against Miami, Philadelphia, and Denver during that post-All-Star stretch.
While details of Bickerstaff's new agreement haven't yet been reported, it's officially safe to say the Cavaliers won't be one of the teams in the market for a new head coach this spring.
Photo courtesy of USA Today Sports Images.