A second Jazz All-Star has been diagnosed with COVID-19, according to ESPN's Adrian Wojnarowski, who reports (via Twitter) that guard Donovan Mitchell tested positive for the coronavirus.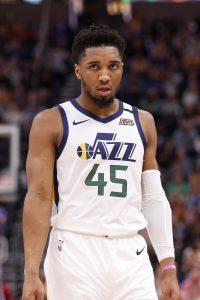 Jazz players and team personnel were quarantined in their locker room on Wednesday night following Rudy Gobert's positive coronavirus test and the postponement of their game with the Thunder. Coronavirus tests were conducted on the club's staff and players, including Mitchell, at that time before they were permitted to leave the Chesapeake Energy Arena.
According to Wojnarowski, Jazz players have privately said that Gobert had been "careless in the locker room" this week, "touching other players and their belongings." We don't know that Gobert contracted the virus before Mitchell, but it's still not a good look for the Jazz center, who also made light of the coronavirus crisis on Monday by going out of his way to touch every microphone and recorder in front of home following a session with the media.
Fortunately though, the coronavirus wasn't spread widely across the Jazz locker room. Mitchell was the only one of 58 Jazz players and personnel who were tested on Wednesday night to be diagnosed with the virus, reports Shams Charania of The Athletic (via Twitter). The remaining tests came back negative. The Jazz confirmed as much this morning in a press release.
While the Jazz are the first team known to have affected players, they may not be the only club impacted by the outbreak, since they've played several other clubs within the last two weeks. Reports on Wednesday night indicated that players from teams that have played the Jazz in the last 10 days were advised to self-quarantine. That list of clubs includes the Cavaliers, Knicks, Celtics, Pistons, and Raptors.
The Raptors, who played the Jazz most recently (Monday), had members of their traveling party, including players, tested for COVID-19 on Wednesday night and announced today that they're awaiting results. All of Toronto's players, coaches, and traveling staff have been instructed to go into self-isolation for 14 days, according to the team.
The Wizards, who faced Utah on February 29 and the Knicks on March 10, have advised players and staff members to self-quarantine for the next three or four days out of "an abundance of caution," the team announced today.
Photo courtesy of USA Today Sports Images.