Hoops Rumors is looking ahead at the 2020/21 salary cap situations for all 30 NBA teams. Due to the impact of the coronavirus pandemic on the NBA, it's impossible to know yet where the cap for 2020/21 will land. Given the league's lost revenue, we're assuming for now that it will stay the same as the '19/20 cap, but it's entirely possible it will end up higher or lower than that.

After a disappointing 2018/19 season, the Celtics bounced back in '19/20, with Jayson Tatum and Jaylen Brown taking major steps forward and Kemba Walker providing the veteran stability that Kyrie Irving hadn't. Prior to the NBA's hiatus, Boston was 43-21 – third in the Eastern Conference – and looked like one of the only teams capable of seriously challenging Milwaukee for a spot in the NBA Finals.
Armed with three first-round picks in 2020, the Celtics are in position to continue adding intriguing young talent, even if the club no longer has the cap flexibility that it has in recent years.
Here's where things stand for the Celtics financially in 2020/21, as we continue our Salary Cap Preview series:
Guaranteed Salary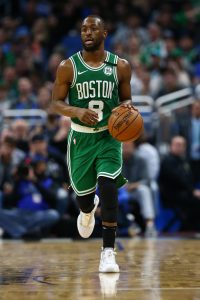 Kemba Walker ($34,379,100)
Jaylen Brown ($23,883,929)
Marcus Smart ($13,446,428)
Jayson Tatum ($9,897,120)
Romeo Langford ($3,631,200)
Vincent Poirier ($2,619,207)
Grant Williams ($2,498,760)
Robert Williams ($2,029,920)
Carsen Edwards ($1,517,981)
Guerschon Yabusele ($1,039,080) — Waived via stretch provision.
Demetrius Jackson ($92,857) — Waived via stretch provision.
Total: $95,035,582

Player Options
Team Options
Non-Guaranteed Salary
Restricted Free Agents
Brad Wanamaker ($1,820,564 qualifying offer / $1,820,564 cap hold): Early Bird rights
Tacko Fall (two-way qualifying offer / $1,445,697 cap hold): Non-Bird rights
Tremont Waters (two-way qualifying offer / $1,445,697 cap hold): Non-Bird rights
Total (cap holds): $4,711,958
Unrestricted Free Agents / Other Cap Holds
No. 14 overall pick ($3,458,400)
No. 26 overall pick ($2,035,800)
No. 30 overall pick ($1,936,440)
Total: $7,430,640

Offseason Cap Outlook

Assuming Hayward exercises his lucrative player option for 2020/21 and Theis is brought back on his modest team option, the Celtics will have committed nearly $135MM in guaranteed money to 11 players.
The NBA's most recent luxury-tax projection, based on an estimated $115MM cap, was $139MM. Once Boston fills out its roster, it figures to surpass that threshold, making the C's a taxpaying team whether or not the cap ultimately falls short of that projection. Barring some cost-cutting moves or a surprise Hayward opt-out, that means the club won't have the full mid-level exception or bi-annual exception available in the offseason.
Cap Exceptions Available
Taxpayer mid-level exception: $5,718,000 3
Footnotes
If Ojelye's team option is exercised, his salary becomes fully guaranteed after October 19.
Theis' salary becomes fully guaranteed after October 21.
This is a projected value.
Note: Minimum-salary and rookie-scale cap holds are based on the salary cap and could increase or decrease depending on where the cap lands.
Salary information from Basketball Insiders and Early Bird Rights was used in the creation of this post. Photo courtesy of USA Today Sports Images.