Hoops Rumors is looking ahead at the 2020/21 salary cap situations for all 30 NBA teams. Due to the impact of the coronavirus pandemic on the NBA, it's impossible to know yet where the cap for 2020/21 will land. Given the league's lost revenue, we're assuming for now that it will stay the same as the '19/20 cap, but it's entirely possible it will end up higher or lower than that.

The Nets knew when they secured commitments from Kevin Durant and Kyrie Irving during the summer of 2019 that this season would represent a transition year as Durant recovered from his torn Achilles. However, they probably weren't expecting anything quite this rocky.
After winning 42 games in 2018/19, the Nets were four games below .500 in '19/20 when the NBA went on hiatus and had recently parted ways with head coach Kenny Atkinson. Getting Durant and Irving healthy and into next season's starting lineup will cure many of Brooklyn's ills, but those stars may not be enough to instantly turn the Nets into a title contender. More moves will likely be required here, and there's not a ton of cap flexibility to make them.
Here's where things stand for the Nets financially in 2020/21, as we continue our Salary Cap Preview series:
Guaranteed Salary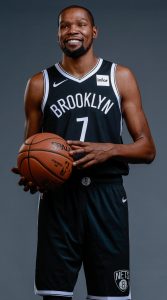 Kevin Durant ($40,108,950)
Kyrie Irving ($33,591,600)
Caris LeVert ($16,203,704)
Taurean Prince ($12,250,000)
Spencer Dinwiddie ($11,454,048)
DeAndre Jordan ($10,375,678)
Jarrett Allen ($3,909,902)
Dzanan Musa ($2,002,800)
Rodions Kurucs ($1,780,152)
Nicolas Claxton ($1,517,981)
Total: $133,194,815

Player Options
Team Options
Non-Guaranteed Salary
Restricted Free Agents
Unrestricted Free Agents / Other Cap Holds
Joe Harris ($14,566,667): Bird rights
No. 19 overall pick ($2,689,920) 1
Wilson Chandler ($1,620,564): Non-Bird rights
Tyler Johnson ($1,620,564): Non-Bird rights
Total: $20,497,715
Offseason Cap Outlook

Even before the NBA's projected cap increase for 2020/21 was jeopardized by the league's China/Hong Kong controversy and the coronavirus-related stoppage, the Nets projected to be a probable taxpayer next season — especially if the team intends to re-sign free agent sharpshooter Harris.
It's possible that some roster changes are around the corner, and those could reduce team salary, but I wouldn't expect the club to get stingy with its payroll as Durant prepares to make his Brooklyn debut. It seems safe to assume the Nets will be one of the NBA's biggest spenders in '20/21 and won't have the full mid-level or bi-annual exceptions available.
Cap Exceptions Available
Taxpayer mid-level exception: $5,718,000 2
Footnotes
This pick could also land at No. 20 depending on the result of a random tiebreaker.
This is a projected value.
Note: Minimum-salary and rookie-scale cap holds are based on the salary cap and could increase or decrease depending on where the cap lands.
Salary information from Basketball Insiders and Early Bird Rights was used in the creation of this post. Photo courtesy of USA Today Sports Images.