Hoops Rumors is looking ahead at the 2020/21 salary cap situations for all 30 NBA teams. Due to the impact of the coronavirus pandemic on the NBA, it's impossible to know yet where the cap for 2020/21 will land. Given the league's lost revenue, we're assuming for now that it will stay the same as the '19/20 cap, but it's entirely possible it will end up higher or lower than that.

Viewed as a potential playoff sleeper pick in the Eastern Conference entering the 2019/20 season, the Bulls made little forward progress. Presumed building block Lauri Markkanen had his worst year as a pro, newcomer Thaddeus Young didn't fit in as planned, and starting small forward Otto Porter missed nearly the entire season with a foot injury.
The disappointing showing resulted in some front office changes for the Bulls, who fired Gar Forman, reassigned John Paxson, and hired Arturas Karnisovas as their new head of basketball operations. With 12 of 15 Chicago's players under contract for 2020/21, Karnisovas may not have a ton of cap flexibility to make significant changes right away, so it will be interesting to see how many of the current pieces he retains and how soon he looks to put his own stamp on the roster.
Here's where things stand for the Bulls financially in 2020/21, as we continue our Salary Cap Preview series:
Guaranteed Salary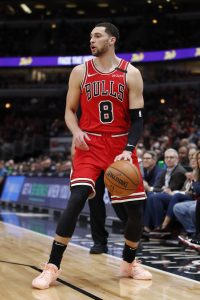 Zach LaVine ($19,500,000)
Thaddeus Young ($13,545,000)
Tomas Satoransky ($10,000,000)
Cristiano Felicio ($7,529,020)
Lauri Markkanen ($6,731,508)
Coby White ($5,572,680)
Wendell Carter ($5,448,840)
Ryan Arcidiacono ($3,000,000)
Chandler Hutchison ($2,443,440)
Luke Kornet ($2,250,000)
Daniel Gafford ($1,517,981)
Total: $77,538,469

Player Options
Team Options
Non-Guaranteed Salary
Restricted Free Agents
Kris Dunn ($7,091,457 qualifying offer / $16,044,021 cap hold): Bird rights
Denzel Valentine ($4,642,800 qualifying offer / $10,132,706 cap hold): Bird rights
Shaquille Harrison ($2,025,705 qualifying offer / $2,025,705 cap hold): Early Bird rights
Adam Mokoka (two-way qualifying offer / $1,445,697 cap hold): Non-Bird rights
Total (cap holds): $29,648,129

Unrestricted Free Agents / Other Cap Holds
Offseason Cap Outlook

With just shy of $78MM in guaranteed money on their 2020/21 books for 11 players, the Bulls seemingly could create cap room. However, adding Porter's $28MM+ player option – which he'll almost certainly exercise – and the cap hold for their No. 4 pick eliminates that potential space in a hurry.
As such, the Bulls figure to operate as an over-the-cap team, though they shouldn't be anywhere close to the tax line. That means the club will have the full mid-level exception and bi-annual exception available this offseason.
Cap Exceptions Available
Mid-level exception: $9,258,000 1
Bi-annual exception: $3,623,000 1
Footnotes
This is a projected value.
Note: Minimum-salary and rookie-scale cap holds are based on the salary cap and could increase or decrease depending on where the cap lands.
Salary information from Basketball Insiders and Early Bird Rights was used in the creation of this post. Photo courtesy of USA Today Sports Images.