Hoops Rumors is looking ahead at the 2020/21 salary cap situations for all 30 NBA teams. Due to the impact of the coronavirus pandemic on the NBA, it's impossible to know yet where the cap for 2020/21 will land. Given the league's lost revenue, we're assuming for now that it will stay the same as the '19/20 cap, but it's entirely possible it will end up higher or lower than that.

The Lakers' roster entering the 2019/20 season was top-heavy and had undergone plenty of turnover, leading to speculation that the team would need some time to establish chemistry and start firing on all cylinders. Instead, the Lakers came out of the gates with 24 wins in their first 27 games. They haven't looked back from there, entering the NBA's hiatus with a 49-14 record, the best mark in the West by a comfortable margin.
While maximum salaries for LeBron James and Anthony Davis will be pricey going forward, the franchise has a good deal of flexibility to maneuver on the periphery and won't be averse to going into the tax if need be.
Here's where things stand for the Lakers financially in 2020/21, as we continue our Salary Cap Preview series:
Guaranteed Salary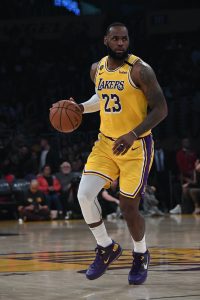 LeBron James ($39,219,566)
Danny Green ($15,365,853)
Luol Deng ($5,000,000) — Waived via stretch provision.
Kyle Kuzma ($3,562,178)
Alex Caruso ($2,750,000)
Talen Horton-Tucker ($1,517,981)
Quinn Cook ($1,000,000) — Partial guarantee. Non-guaranteed portion noted below. 1
Total: $68,415,578

Player Options
Anthony Davis ($28,751,774)

Kentavious Caldwell-Pope ($8,543,746)
Avery Bradley ($5,005,350)
JaVale McGee ($4,200,000)
Rajon Rondo ($2,692,991)
Total: $49,193,861
Team Options
Non-Guaranteed Salary
Restricted Free Agents
Unrestricted Free Agents / Other Cap Holds
Markieff Morris ($2,100,000): Non-Bird rights
No. 28 overall pick ($1,964,760)
Jared Dudley ($1,620,564): Non-Bird rights
Dwight Howard ($1,620,564): Non-Bird rights
Dion Waiters ($1,620,564): Non-Bird rights
Total: $8,926,452
Offseason Cap Outlook

Even if we assume Davis opts out to sign a maximum-salary contract and all of the Lakers with player options exercise them, team salary shouldn't be exorbitant — the five guaranteed salaries, four player options, a max salary for Davis, and the cap hold for the first-round pick would work out to about $123.5MM for 11 roster spots, assuming the cap doesn't increase.
Of course, if more of those players with options besides Davis require raises for next season, staying out of tax territory will be more challenging. And while it's plausible that the Lakers will have the full, non-taxpayer mid-level exception available, there may not be enough wiggle room to use the full MLE and bi-annual exception while staying below the tax apron.
Cap Exceptions Available
Mid-level exception: $9,258,000 2
Bi-annual exception: $3,623,000 2
Footnotes
Cook's salary becomes fully guaranteed after October 17.
This is a projected value. If the Lakers' team salary continues to increase, it's possible they'd be limited to the taxpayer mid-level exception ($5,718,000).
Note: Minimum-salary and rookie-scale cap holds are based on the salary cap and could increase or decrease depending on where the cap lands.
Salary information from Basketball Insiders and Early Bird Rights was used in the creation of this post. Photo courtesy of USA Today Sports Images.