All-NBA selections have become more important than ever in recent years, since teams can agree to increase the overall value of certain maximum-salary contracts based on whether or not a player has earned All-NBA honors in a given season.
Those higher max salaries are also available to players who win MVP or Defensive Player of the Year, but there's only one of each of those awards per year. There are 15 All-NBA players annually, creating more opportunities for players to become eligible for those more lucrative contracts, informally known as "super-max" deals.
As we explain in our glossary entry on the "Designated Veteran Extension," a player with between seven and nine years of NBA experience who meets certain contract criteria and hasn't changed teams since the end of his rookie contract become eligible for a maximum salary worth 35% of the cap – instead of 30% – if he was named to an All-NBA team in the most recent season, or in two of the last three seasons.
Similar incentives are available for players coming off their rookie scale contracts, as noted in our glossary entry on the "Derrick Rose Rule." Those players can earn max deals worth up to 30% of the cap instead of 25% if they were named to an All-NBA team in the most recent season, or in two of the last three seasons.
The differences between the various levels of maximum salaries can be substantial over the course of a long-term contract. For instance, in 2019/20, a five-year max contract that starts at 25% of the cap and includes 8% annual raises is worth just over $158MM. By comparison, a five-year deal that starts at 35% of the cap with 8% annual raises is worth over $221MM. A five-year contract at the 30% max falls in between, at about $190MM.
We don't know yet what this year's All-NBA teams will look like – or even when voting will take place – but as our informal polls last week showed, there are a number of candidates whose future earnings could be affected by whether or not they earn one of those 15 spots.
Let's take a closer look at some of those players…
Players who have already qualified for super-max contracts: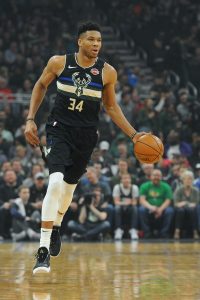 Antetokounmpo and Gobert didn't even need to rely on All-NBA spots to qualify for super-max contracts — Giannis' MVP award last year and Gobert's back-to-back Defensive Player of the Year awards in 2018 and 2019 secured their eligibility.
Because both players only had six years of experience entering the 2019/20 season, they had to wait one more year to be eligible to actually receive super-max extension offers, which would be worth 35% of the cap instead of 30%.
Antetokounmpo is a lock to receive such an offer from the Bucks, who have publicly said they'll put it on the table as soon as they can. That was supposed to happen this July, but the NBA's hiatus has thrown that timeline into flux. Whenever Milwaukee makes its offer, it would be for a five-year extension that would start in 2021/22 and be worth 35% of that season's cap.
Gobert's outlook is cloudier. He could also sign a five-year, 35% max-salary extension that would start in 2021/22, but he's not at the same level of superstardom that Giannis is, so it remains to be seen how aggressive the Jazz will actually be in attempting to lock him up beyond next season.
Players whose already-signed rookie extensions would be impacted by an All-NBA selection:
Siakam and Simmons signed maximum-salary rookie scale extensions with their respective teams last fall. Both contracts will go into effect in 2020/21 and both include Rose Rule language, meaning they'll be among the players closely monitoring this year's All-NBA results.
In our series of polls, Siakam earned a spot on the All-NBA Second Team. However, I think there's a real possibility he could end up on the Third Team. Antetokounmpo, LeBron James, and Kawhi Leonard will likely receive more votes than Siakam. Anthony Davis will place higher than Siakam too if voters consider him a forward. And even if Davis is listed as a center, Jayson Tatum is among those who should give Siakam a strong push for that Second Team forward spot.
While Siakam might be satisfied to end up on any All-NBA team, a spot on the Second Team would be far more satisfying from a financial perspective. His deal calls for a starting salary worth 28% of the cap if he earns All-NBA Second Team honors, but just 25% if he makes the Third Team.
As we outlined in the fall, that difference would have been worth nearly $16MM over four years based on a $116MM cap. The cap is no longer expected to get that high, but even so, missing out on a Second Team spot would cost Siakam millions.
As for Simmons, he wasn't one of the 15 players voted to an All-NBA team by Hoops Rumors readers, but he looks to me like a viable candidate for the Third Team. If he makes the Third Team, his starting salary would be 28% of next year's cap, rather than the 25% he'd get if he doesn't make an All-NBA squad. Those three percentage points would impact Simmons even more than they would Siakam over the life of their contracts, since Simmons' five-year deal runs for an extra season and the amount of the annual raises are based on the starting salary.
Nuggets guard Jamal Murray also signed a rookie scale extension with Rose Rule language, but isn't a realistic candidate for an All-NBA nod.
Players whose next contract could be impacted by an All-NBA selection this season: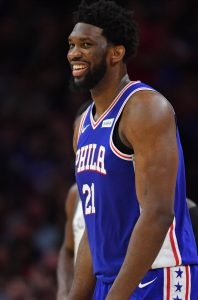 If Embiid – who was voted onto Hoops Rumors' All-NBA Third Team – earns an All-NBA spot this season after doing so last year, he'd be in the same position heading into 2020/21 that Antetokounmpo and Gobert were entering 2019 — he'd have qualified for a super-max extension, but wouldn't yet be eligible to sign one.
Once the 2021/22 league year begins, Embiid would have seven years of NBA experience, with All-NBA nods in at least two of the last three years, making him eligible to sign a four-year super-max extension that would begin in 2023/24, with a starting salary worth 35% of the cap. Even if Embiid doesn't make an All-NBA team this season, doing so next year would still make him eligible for that same deal.
As for Ingram, he's a long shot to be named to an All-NBA team, but in the unlikely event that he is, he'd be eligible to sign for a starting salary of up to 30% of the cap on a new free agent contract with the Pelicans. No other team looking to sign him to an offer sheet could exceed 25% of the cap in that scenario.
Other players to start monitoring if they earn All-NBA honors this season:
These players fall into a few separate sub-categories. Jokic and Booker, for instance, are in their fifth seasons and on their second NBA contracts. An All-NBA spot – which is far likelier for Jokic – would be a good start toward earning super-max eligibility, but they'd still have to make another All-NBA team in either 2021 or 2022 to become eligible to sign a Designated Veteran Extension in 2022.
Doncic, an All-NBA lock, and Young, a lesser candidate, are only in their second NBA seasons. If they were to make All-NBA teams this year and next, they'd be eligible to sign rookie scale extensions with starting salaries worth up to 30% of the cap during the 2021 offseason. Those deals would go into effect in 2022/23.
Adebayo, Mitchell, and Tatum are all in their third seasons and will be extension-eligible during the 2020 offseason. Earning an All-NBA spot this year actually wouldn't do much for their Rose Rule eligibility — they'd still have to do it again in 2021 to qualify, since the criteria calls for an All-NBA berth in either the season before the new contract begins or in two of the three prior seasons.
Still, earning All-NBA honors this year would give those three players additional leverage to negotiate Rose Rule language into their potential rookie scale extensions, which would go into effect in 2021/22.
Strong All-NBA candidates who are notably ineligible for super-max contracts:
Beal was in position to qualify for a super-max extension if he had earned All-NBA honors this season, but the short-term contract extension he signed last October eliminated that possibility. By the time that extension expires, he'll have 10 years of NBA experience and will be eligible for the 35% max anyway.
Davis has the right amount of NBA experience to gain eligibility and should be an All-NBA lock, but the fact that he changed teams last summer ensures he'll no longer qualify for a Designated Veteran Contract this offseason — he missed out on the possibility of the super-max as soon as he left the Pelicans.
Various other All-NBA candidates won't meet the super-max criteria for various reasons. Some, like James Harden, are already on a super-max contract. Others, such as LeBron James, already have 10+ years of experience and can't qualify for a higher max than the 35% they already get. Recently changing teams (ie. Jimmy Butler) or signing new long-term deals (ie. Khris Middleton) also remove certain players from super-max contention.
Photos courtesy of USA Today Sports Images.