Hoops Rumors is looking ahead at the 2020/21 salary cap situations for all 30 NBA teams. Due to the impact of the coronavirus pandemic on the NBA, it's impossible to know yet where the cap for 2020/21 will land. Given the league's lost revenue, we're assuming for now that it will stay the same as the '19/20 cap, but it's entirely possible it will end up higher or lower than that.

The Suns' .400 winning percentage in 2019/20 technically represents the organization's best mark since 2014/15. Still, the team – which had a 26-39 record when the NBA suspended its season – has yet to take a major step forward in its rebuild.
Continued development from Booker, Ayton, and Phoenix's other young players will be the most important factor in Phoenix's return to playoff contention. Still, there could be another path to improvement this offseason, as the Suns may be one of the NBA's only teams with cap room, depending on what they decide to do with Dario Saric and Aron Baynes.
Here's where things stand for the Suns financially in 2020/21, as we continue our Salary Cap Preview series:
Guaranteed Salary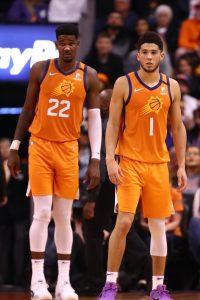 Devin Booker ($29,467,800)
Ricky Rubio ($17,000,000)
Kelly Oubre ($14,375,000)
Deandre Ayton ($10,018,200)
Mikal Bridges ($4,359,000)
Cameron Johnson ($4,235,160)
Ty Jerome ($2,303,040)
Jalen Lecque ($1,517,981)
Total: $83,276,181

Player Options
Team Options
Non-Guaranteed Salary
Restricted Free Agents
Dario Saric ($5,087,871 qualifying offer / $10,445,958 cap hold): Bird rights
Jevon Carter ($1,820,524 qualifying offer / $1,820,524 cap hold): Early Bird rights
Tariq Owens (two-way qualifying offer / $1,445,697 cap hold): Non-Bird rights
Total (cap holds): $13,712,179

Unrestricted Free Agents / Other Cap Holds
Offseason Cap Outlook

If we assume the Suns want to maximize their cap room, it would mean they'll renounce at least Saric and Baynes while also turning down their team option on Kaminsky. In that scenario, the team could open up in the neighborhood of $16-19MM in space even if the cap doesn't increase.
That's not an unrealistic path for Phoenix, especially if the club has its eye on one or two specific free agent targets. However, it also wouldn't be surprising if the Suns attempt to retain one or more of the veterans noted above, particularly Saric. That approach would likely mean operating as an over-the-cap team and gaining access to the full mid-level exception and bi-annual exception.
Cap Exceptions Available
Room exception: $4,767,000 3
Footnotes
Okobo's new salary guarantee date is unknown.
The cap hold for this pick will depend on where it ultimately falls in the lottery. Currently, the Suns rank 10th in the lottery standings.
This is a projected value. If the Suns operate as an over-the-cap team, they'd instead have access to have access to the full mid-level exception ($9,258,000) and the bi-annual exception ($3,623,000).
Note: Minimum-salary and rookie-scale cap holds are based on the salary cap and could increase or decrease depending on where the cap lands.
Salary information from Basketball Insiders and Early Bird Rights was used in the creation of this post. Photo courtesy of USA Today Sports Images.