Hoops Rumors is looking ahead at the 2020/21 salary cap situations for all 30 NBA teams. Due to the impact of the coronavirus pandemic on the NBA, it's impossible to know yet where the cap for 2020/21 will land. Given the league's lost revenue, we're assuming for now that it will stay the same as the '19/20 cap, but it's entirely possible it will end up higher or lower than that.

The Wizards' salary cap flexibility over the last couple years has been compromised by the fact that their highest-paid player – and one of the highest-paid players in the entire NBA – has been on the shelf with injuries since December of 2018. However, John Wall is set to return to the court next season, as some other money – including Ian Mahinmi's sizable deal – comes off the team's books.
That doesn't mean that the Wizards are in a great position to spend. Their unwillingness to trade Davis Bertans at the deadline signaled that they want to re-sign him, and doing so may limit the club's ability to do a whole lot else this offseason.
Here's where things stand for the Wizards financially in 2020/21, as we continue our Salary Cap Preview series:
Guaranteed Salary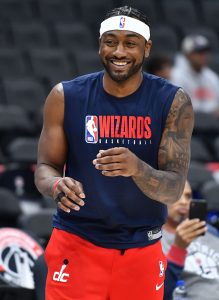 John Wall ($41,254,920)
Bradley Beal ($28,751,774)
Thomas Bryant ($8,333,333)
Ish Smith ($6,000,000)
Rui Hachimura ($4,692,840)
Jerome Robinson ($3,737,520)
Troy Brown ($3,372,840)
Moritz Wagner ($2,161,920)
Admiral Schofield ($1,517,981)
Anzejs Pasecniks ($250,000) — Partial guarantee. Non-guaranteed portion noted below. 1
Total: $100,073,128

Player Options
Team Options
Non-Guaranteed Salary
Isaac Bonga ($1,663,861) 2
Anzejs Pasecniks ($1,267,981) 1
Total: $2,931,842
Restricted Free Agents
Unrestricted Free Agents / Other Cap Holds
Ian Mahinmi ($23,175,077): Bird rights
Davis Bertans ($13,300,000): Bird rights
No. 9 overall pick ($4,469,160) 3
Shabazz Napier ($1,620,564): Early Bird rights
Gary Payton II ($1,620,564): Non-Bird rights
Ty Lawson ($1,620,564): Non-Bird rights 4
Chasson Randle ($1,620,564): Non-Bird rights 4
Ramon Sessions ($1,620,564): Non-Bird rights 4
Total: $49,047,057
Offseason Cap Outlook

If we assume all the Wizards' players on guaranteed and non-guaranteed contracts return and that the team gets the No. 9 pick in the lottery, that would work out to about $107.5MM in commitments for 12 roster spots. Re-signing Bertans to a contract in the $10-15MM neighborhood would take team salary well over the cap.
If Bertans signs elsewhere or returns on a reasonably team-friendly deal, the Wizards would still have a decent amount of breathing room below the luxury tax line, opening the door to potentially use their full mid-level exception.
Cap Exceptions Available
Mid-level exception: $9,258,000 5
Bi-annual exception: $3,623,000 5
Footnotes
Pasecniks' new salary guarantee date is not known.
Bonga's salary becomes fully guaranteed after October 17.
The cap hold for this pick will depend on where it ultimately falls in the lottery. Currently, the Wizards rank ninth in the lottery standings.
The cap holds for Lawson, Randle, and Sessions remain on the Wizards' books because they haven't been renounced after going unsigned in 2019/20. They can't be used in a sign-and-trade deal.
These are projected values. If the Wizards' team salary continues to increase, they may be limited to the taxpayer mid-level exception ($5,718,000).
Note: Minimum-salary and rookie-scale cap holds are based on the salary cap and could increase or decrease depending on where the cap lands.
Salary information from Basketball Insiders and Early Bird Rights was used in the creation of this post. Photo courtesy of USA Today Sports Images.