After suspending the 2019/20 season on March 11 due to the coronavirus pandemic, the NBA has now finalized a plan for resuming play.
We'll use the space below to round up all the details on that plan, answering the most commonly-asked questions and updating the story with more information as it becomes available.
This post can be found anytime on the right-hand of our desktop site under "Hoops Rumors Features" or on the "Features" page in our mobile menu.
Has the NBA officially approved a return-to-play plan?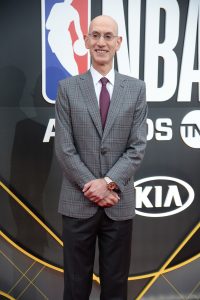 The NBA's Board of Governors approved the plan on June 4, nearly unanimously. The National Basketball Players Association also signed off on June 5.
There were a few more details to sort out after that, and a number of players have expressed reservations about the plan, but it's moving forward. The NBA and NBPA announced a finalized agreement on June 26.
When will the NBA resume play?
The season will resume on July 30. Teams are scheduled to travel to Orlando starting on July 7 and will have training camps, followed by three exhibition games, before July 30. More details on the schedule can be found here and here.
Where will the return-to-play take place?
All games will be played at Walt Disney World in Orlando. The massive property has more than enough space to house teams, and the ESPN Wide World of Sports Complex has the necessary facilities for basketball games.
Games will be played without fans in attendance at The Arena, HP Field House, and Visa Athletic Center, per ESPN. Teams will stay at the Gran Destino, Grand Floridian, and Yacht Club resorts.
How many teams will return to complete the 2019/20 season?
Twenty-two teams will participate. Those teams are as follows:
The current Eastern Conference playoff teams (8):

Milwaukee Bucks
Toronto Raptors
Boston Celtics
Miami Heat
Indiana Pacers
Philadelphia 76ers
Brooklyn Nets
Orlando Magic

The current Western Conference playoff teams (8):

Los Angeles Lakers
Los Angeles Clippers
Denver Nuggets
Utah Jazz
Oklahoma City Thunder
Houston Rockets
Dallas Mavericks
Memphis Grizzlies

The teams within six games of a playoff spot (6):

Portland Trail Blazers
New Orleans Pelicans
Sacramento Kings
San Antonio Spurs
Phoenix Suns
Washington Wizards
The Hornets, Bulls, Knicks, Pistons, Hawks, Cavaliers, Timberwolves, and Warriors won't be part of the NBA's restart — their seasons are over.
Why is the NBA bringing back 22 teams instead of 30?
Adding eight more clubs to the mix would mean bringing several hundred additional individuals onto the Disney campus, increasing the risk of spreading COVID-19. The NBA didn't consider it necessary to bring back those eight teams, who were far removed from the playoff picture and would have had no real path to the postseason had the season played out normally.
So why 22 teams instead of 16 then?
The 22-team format accomplishes two things:
It allows teams to play a regular season schedule rather than jumping directly to the postseason.
It will allow the NBA to experiment with a play-in tournament.
The first point is important because players on playoff teams opposed the idea of advancing directly to the postseason without playing meaningful games first. They want to be able to shake off the rest and reestablish their chemistry before jumping into do-or-die games.
Playing regular season games will also allow these 22 teams – who have played between 64 and 67 games so far – to surpass the 70-game mark for the regular season, which is an important threshold for clubs' agreements with regional TV networks.
Meanwhile, implementing in-season and/or play-in tournaments has long been on Silver's wish list, and this year's unusual circumstances presented the league with the opportunity to experiment.
So regular season games will take place when play resumes?
Yes, though they're technically not being called regular season games. Each team will play eight pre-playoff contests, referred to by the NBA as "seeding games," for a total of 88 games between July 30 and the start of the playoffs in August.
And will the top eight teams in each conference make the playoffs at that point?
Not necessarily. If the No. 8 seed has more than a four-game lead on the No. 9 seed, then yes, the top eight teams in that conference will automatically make the postseason. On the other hand, if the No. 9 seed is within four games of the No. 8 seed, those two teams will participate in a play-in tournament.
What will that play-in tournament look like?
Essentially, it'll be a best-of-three series with the No. 8 team getting a 1-0 lead to start. The No. 9 team will have to win twice to claim the final playoff spot in the conference, while the No. 8 team will only need to win once.
Once the playoff teams are set, will they be reseeded one through 16, regardless of conference?
No, the postseason will assume a traditional format once the No. 8 seeds are set — teams will be divided by Eastern and Western conferences and will play best-of-seven series.
What coronavirus-related protocols will the NBA institute to ensure players' safety?
Players, coaches, and staffers on the Disney campus are expected to undergo daily COVID-19 testing, or something close to it. Additionally, the NBA has sent out a 113-page letter detailing the health and safety measures being taken. Those protocols are too extensive to list here, but some of them are as follows:
What happens if a player tests positive for COVID-19?
A single positive test won't shut down the season, as it did in March when Rudy Gobert contracted the coronavirus. The expectation is that a player who tests positive will be required to self-quarantine for at least 10-to-14 days, with his teammates being frequently tested as they continue to play.
What if a player doesn't want to participate due to safety concerns?
A player who chooses not to report to Orlando won't face a fine or suspension. However, he also won't be paid for the games he misses, and will forfeit 1/92.6th of his salary for those games. His team has the option of signing a "substitute player" to replace him. So far, a handful of players have voluntarily opted out, including Lakers guard Avery Bradley, Wizards forward Davis Bertans, and Trail Blazers forward Trevor Ariza.
How late will the season run?
If the NBA Finals go a full seven games, the last game will happen no later than October 13.
When will next season start?
The NBA is tentatively targeting November 10 for the start of next season's training camps, with December 1 representing the target date for opening night of the regular season. In other words, a team that plays in the Finals may have to report to training camp less than a month later.
That timeline is not yet set in stone. Given how much of its revenues are tied to ticket sales and in-arena purchases, the NBA will prioritize getting fans back into arenas next season, so if the league has to wait a little longer to ensure that happens, it will likely do so.
Additionally, the NBPA – whose members may not love the idea of such a short offseason – will have to approve those proposed dates, and the union reportedly views a December 1 tip-off date for 2020/21 as unlikely.
Will the NBA play a full season in 2020/21? Will that schedule change be permanent?
That's TBD. Everything we've heard suggests the NBA is still prioritizing playing a full 82-game schedule next season, in part to attempt to recoup some of this season's lost revenues. The idea of starting the regular season in December and having it run into June (with the playoffs ending in August) has been popular in some NBA circles, but the league hasn't committed to changing its calendar on a permanent basis.
One report has indicated the league would like to hold the 2021 Finals in mid-July, in part to allow players to participate in the Tokyo Olympics, which are scheduled to begin on July 23, 2021.
When will this year's draft and free agency period occur?
The 2020 draft has been rescheduled for October 16. Free agency is expected to open just two days later, on October 18. It's shaping up to be an extremely hectic week for the NBA, especially if the Finals go a full seven games and end on October 13.
Player option decision dates, salary guarantee dates, trade exception expiry dates, and various other deadlines will be pushed back as well to coincide with the new calendar. For instance, a trade exception that would previously have expired on July 6 will now expire on October 23.
How will the draft lottery odds be determined?
The draft lottery – rescheduled for August 20 – will be made up of the eight teams not involved in the league's restart and the six teams that don't make the postseason. Those teams' lottery seeds and odds will be based on their records through March 11, according to the NBA.
Those seeds and odds can be found here, but will be subject to change if a current playoff team loses its No. 8 seed to a current lottery team. For instance, if if the Wizards were to beat the Magic in a play-in tournament, the Suns, Spurs, Kings, Pelicans, and Trail Blazers would all move up a spot in the lottery standings, Orlando would get the 14th spot in those lottery standings, and the Wizards would draft 15th overall.
The rest of the draft order will be based on the 16 playoff teams' combined records across regular season games and "seeding games." For instance, the Heat (41-24) are currently projected to draft 23rd, but if they go 1-7 when play resumes, they'll likely move up in the draft.
How will players' salaries and next season's salary cap be impacted by the NBA's plan?
That remains unclear. By playing 88 more regular season games, the NBA will ensure that many of its teams surpass the 70-game threshold and fulfill regional TV contracts, which is good news for the league's financial situation.
Players – who are currently having 25% of their pay checks withheld – will still be required to forfeit a portion of their 2019/20 salaries as a result of the 171 regular season games that will end up being canceled. But there's a belief they'll begin receiving their full pay checks at some point this summer.
As for how the 2020/21 salary cap will be affected, that will require some negotiation between the NBA and NBPA and will hinge in part on how significantly the league expects next season's revenues to be impacted by the pandemic. There's a belief that neither the league nor the union will want the cap to drop off substantially this offseason, so artificially smoothing it could be the most logical solution.
Photo courtesy of USA Today Sports Images.