Grizzlies forward Justise Winslow, acquired from the Heat at the trade deadline, won't get a chance to make his debut with his new team this summer after all. According to a press release, Winslow fell during an intra-squad scrimmage on Monday and injured his hip. The injury will force him to miss the rest of the season, per the club.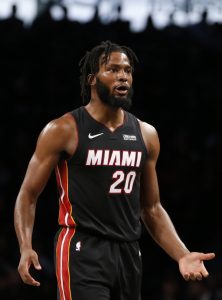 It's a tough break for the Grizzlies and for Winslow, who had already missed the majority of the 2019/20 season due to a back injury. The 24-year-old appeared in just 11 games for Miami before being shut down, and had yet to suit up for Memphis.
Winslow averaged 12.6 PPG, 5.4 RPG, and 4.3 APG with a .433/.375/.628 shooting line in 66 games (29.7 MPG) in 2018/19, showing impressive versatility on both ends of the court and taking on primary ball-handling duties at times.
Winslow was the centerpiece of the deadline deal that saw the Grizzlies take on Dion Waiters' and Gorgui Dieng's pricey multiyear contracts and send Andre Iguodala to Miami. The hope was that the young swingman would emerge as a long-term building block on an up-and-coming Memphis squad led by Ja Morant and Jaren Jackson Jr. If that's going to happen, it'll have to start in 2020/21 — Winslow has a $13MM salary next season, with a $13MM team option for '21/22.
Although the Grizzlies got some bad news on Winslow, the club's roster as a whole should still be healthier than it was in March before the season was suspended. Jackson and Brandon Clarke are on track to return from injuries of their own, so Winslow's absence won't create a major hole in coach Taylor Jenkins' rotation.
The Grizzlies have a 3.5-game cushion for the No. 8 spot in the Western Conference, but holding onto that final playoff berth won't be easy. Memphis has one of the summer's most challenging eight-game schedules, which concludes with games against the Jazz, Thunder, Raptors, Celtics, and Bucks.
Before that, the Grizzlies will have to face the Trail Blazers, Spurs, and Pelicans, three teams chasing them for the No. 8 seed. The Kings and – to a lesser extent – the Suns are also in the running.
Photo courtesy of USA Today Sports Images.