JULY 1, 12:45pm: Smith has officially signed a contract with the team, ESPN's Adrian Wojnarowski tweets.
JUNE 29, 11:10am: The Lakers are expected to finalize a rest-of-season contract with free agent shooting guard J.R. Smith this week, league sources tell Marc Stein of The New York Times (Twitter link). According to ESPN's Adrian Wojnarowski (via Twitter), Smith and the Lakers are working through the final steps of a deal today.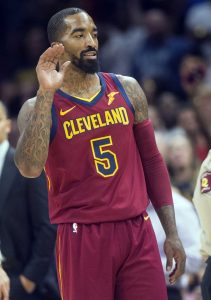 Smith, 34, didn't play in the NBA at all this season, but worked out for the Lakers in March before the league went on hiatus due to the coronavirus pandemic. When word broke last week that Avery Bradley was voluntarily opting out of the NBA's restart, Smith was immediately identified as a leading candidate to replace him on L.A.'s summer roster.
Smith last played in the NBA in 2018/19, appearing in just 11 games for the Cavaliers before being waived in November of that season. In '17/18, his last full season, he was a solid role player in Cleveland, averaging 8.3 PPG and 2.9 RPG with a .375 3PT% in 80 games (28.1 MPG).
As a substitute player, Smith will receive a rest-of-season, minimum-salary contract that won't count against the Lakers' cap. It will pay him just shy of $290K, which represents 20/177ths of the usual $2,564,753 minimum salary for a player with 10+ years of NBA service. He'll be an unrestricted free agent after the season and L.A. won't hold any form of Bird rights on him this fall.
Even with Bradley out, it's not clear that Smith will actually see much action this summer. However, he becomes the latest intriguing character to join the Lakers' depth chart on the wing — the team signed veteran shooting guard Dion Waiters shortly before play was suspended in March.
Assuming no other Lakers players voluntarily opt out of the resumption of the season, the club won't have the ability to make another addition without cutting someone. Currently, all 17 roster spots are filled, with two-way players Devontae Cacok and Kostas Antetokounmpo joining the 15 players on standard contracts.
Photo courtesy of USA Today Sports Images.