Hoops Rumors is previewing the 2020 offseason for all 30 NBA teams. We're looking at the key questions facing each club, as well as the roster decisions they'll have to make this fall. Today, we're focusing on the New York Knicks.

---
Salary Cap Outlook
The Knicks have seven players with non-guaranteed (or partially guaranteed) contracts or team options for next season, totaling nearly $50MM. Their decisions on those players will go a long ways toward dictating their cap flexibility for the coming offseason.
Assuming at least a couple of the more expensive players are let go – including Bobby Portis ($15.75MM) and Wayne Ellington ($8MM) – New York is in position to open up a decent chunk of cap room — perhaps in the $25-30MM range.
Our full salary cap preview for the Knicks can be found right here.
---
Roster Decisions To Watch
Options:
Bobby Portis, team option: $15,750,000 (Oct. 17 deadline)
Theo Pinson, team option: $1,701,593 (Oct. 17 deadline)
Non-Guaranteed Contracts:
Taj Gibson ($9,450,000)

Note: Partially guaranteed for $1MM.

Wayne Ellington ($8,000,000)

Note: Partially guaranteed for $1MM.

Elfrid Payton ($8,000,000)

Note: Partially guaranteed for $1MM.

Reggie Bullock ($4,200,000)

Note: Partially guaranteed for $1MM.

Mitchell Robinson ($1,663,861)
Two-Way Contracts:
Free Agents:
---
2020 Draft Assets
First Round:
No. 6 overall pick (pending lottery results)
No. 27 overall pick
The Knicks have the sixth-best lottery odds, but their most likely pick is No. 7 (29.6%). They have a 9.0% chance at the No. 1 pick and a 37.2% chance at a top-four selection. No. 6 (8.6%), No. 8 (20.6%), and No. 9 (3.8%) are also in play, while No. 10 (0.2%) is an extreme long shot.
The Knicks will also receive the Clippers' first-round pick, which landed at No. 27.
Second Round:
The Knicks traded away their own second-round pick (No. 36), but acquired the Hornets' selection, which will be No. 38.
---
Three Key Offseason Questions
1. What sort of impact will the Knicks' new leadership have?

The Knicks have undergone a major overhaul off the court in 2020. Veteran player agent Leon Rose was hired to head up the team's basketball operations department, with Frank Zanin and Walt Perrin coming aboard as assistant general managers and William "World Wide Wes" Wesley being named the club's executive VP/senior basketball advisor.
The first major task the new-look front office faced was hiring a permanent head coach, and the group settled on Tom Thibodeau, who has six postseason appearances and four playoff series wins under his belt as a head coach in Chicago and Minnesota.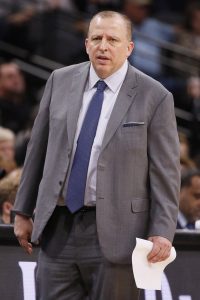 There has been no shortage of turnover within the Knicks' leadership ranks since the team last appeared in the playoffs in 2013. Thibodeau is the seventh head coach since then, and the front office has been overseen by several executives in recent years, including Steve Mills, Scott Perry, and Phil Jackson.
None of those coaches or execs have had much success in New York, and one school of thought suggests that team owner James Dolan is to blame. As long as Dolan is running the show, the theory goes, the Knicks will be incapable of building a winning culture and becoming a desirable landing spot for NBA stars.
Dolan may not be the ideal NBA team owner, but he has mostly avoided meddling in basketball matters in recent years, and he can't be blamed for the majority of the questionable signings, draft picks, and trades the Knicks have made during that time. The right front office and head coach should be able to succeed in spite of Dolan, and the law of averages suggests that the franchise should – at some point – stumble upon the right combination.
Can Rose and Thibodeau be that "right combination"? The Knicks are hopeful that Rose's decades of experience dealing with players and building relationships will translate into success in roster building and free agent recruiting. And Thibodeau is an experienced head coach who is liked and respected by a number of veteran stars around the league. It's too early to draw any conclusions, but there's at least some reason for optimism that this president/coach pairing can be more effective than the team's recent duos.
2. Will the Knicks take a different approach with cap room this time around?

A year ago, the Knicks entered the offseason with enough cap space available to sign two maximum-salary free agents. But they were unable to convince any of the top players on the market to sign with them, and instead used the majority of their cap room to sign solid but unspectacular veterans to deals with no more than one fully guaranteed season (Julius Randle, who received two fully guaranteed seasons on his three-year contract, was the exception).
The thinking was that those veterans could help the Knicks compete for a playoff spot, then if things didn't work out, they could be shopped for draft picks or young players at the trade deadline. New York was never in the playoff race though, and the only veteran who drew considerable interest at the deadline was Marcus Morris, who was almost an accidental signing last July — he received most of the Knicks' remaining cap room after pulling out of a verbal agreement with the Spurs.
The Knicks can't force star free agents to sign with them, and using their cap room to invest in long-term deals for second- or third-tier players would be ill-advised. But there were other ways to maximize their cap space, and there will be again this year, as long as the club sheds some of those 2019 signees without full guarantees for '20/21.
The trade market offers one such avenue. A year ago, the Clippers' willingness to take on Maurice Harkless' $11MM expiring contract earned them a first-round pick along with a player who was a key part of their rotation until he was flipped at the trade deadline. The Knicks didn't take advantage of any similar trade opportunities with their cap room in 2019, but they could look to do so in 2020 if there are no free agents who catch their eye.
Simply accommodating a salary-dump or two could allow New York to acquire some extra draft capital, but the team could get more ambitious than that. If the Knicks are willing to take on multiyear money, they could target high-priced impact players such as Chris Paul or Blake Griffin. Those guys likely aren't part of their teams' long-term plans and wouldn't require a massive return, given their exorbitant salaries.
I'm a little skeptical that the new front office will want to go that route though, since it would mean compromising the team's cap flexibility for 2021 for stop-gap veterans. The Knicks will want a shot at the top players in next year's class, which will probably mean using this year's room to sign short-term deals or to acquire expiring contracts.
3. What do the Knicks have in their former lottery picks?

Among the Knicks' returning players, there are four who were top-10 picks in the last three NBA drafts: Frank Ntilikina (No. 8 in 2017), Dennis Smith Jr. (No. 9 in '17), Kevin Knox (No. 9 in '18), and RJ Barrett (No. 3 in '19).
This will be a crucial year for all four, but especially for Ntilikina and Smith, who are entering the final season of their respective rookie contracts. Ntilikina is a strong defender whose offensive game remains extremely limited, while Smith's shooting struggles have held him back. It seems safe to assume that neither will receive a rookie scale extension this offseason — the question is whether either will begin the season with a new team.
The Knicks have been unwilling to sell low on Ntilikina in the past and didn't end up moving Smith at this season's deadline. But Rose didn't draft either player, so if he doesn't view them as part of New York's future, he may be more inclined to view them as sunk costs and take what he can get in a trade. On the other hand, if Rose wants to see what Thibodeau can get out of them, Ntilikina and Smith may get one more chance to prove they can be part of the organization's plan going forward.
With two years left on his rookie deal, Knox isn't at the same crossroads as the 2017 lottery picks, but after an extremely underwhelming sophomore season, he's under pressure to show improvement in 2020/21 under Thibodeau. He'll be eligible for a rookie scale extension a year from now, but unless he takes major strides between now and then, he's unlikely to get one.
As for Barrett, he showed promise as a rookie and is the best candidate – besides Mitchell Robinson – to be a long-term fixture in New York. However, Rose and Thibodeau will have to make it a priority to put him in a better position to succeed. The former Duke standout was surrounded by too many ball-dominant players rather than floor-spacers in 2019/20, limiting his ability to maximize his impact.
Information from Basketball Insiders and ESPN was used in the creation of this post. Photos courtesy of USA Today Sports Images.