Hoops Rumors is previewing the 2020 offseason for all 30 NBA teams. We're looking at the key questions facing each club, as well as the roster decisions they'll have to make this fall. Today, we're focusing on the Phoenix Suns.

---
Salary Cap Outlook
The Suns' cap outlook will depend on which direction they want to go with their roster. They currently project to have $87.5MM in guaranteed money on their books for eight players and a first-round pick, so renouncing or cutting everyone else could result in about $19MM in space.
However, retaining non-guaranteed players like Cameron Payne ($1.98MM) and Elie Okobo ($1.67MM) would cut into that space slightly. So would exercising a $5MM team option for Frank Kaminsky. And attempting to re-sign Dario Saric and/or Aron Baynes, who each have $10MM cap holds, could result in Phoenix remaining over the cap.
If the Suns use cap room, they'll be able to supplement it with the room exception ($4.77MM). If they remain over the cap, they'll have the full mid-level exception (about $9.3MM) and bi-annual exception ($3.6MM) available.
Our full salary cap preview for the Suns can be found right here.
---
Roster Decisions To Watch
Options:
Frank Kaminsky, team option: $5,005,350
Cameron Payne, team option: $1,977,011

Note: Payne's salary would only be guaranteed for $25K if his option is exercised.

Cheick Diallo, team option: $1,824,003
Non-Guaranteed Contracts:
Two-Way Contracts:
Free Agents:
Aron Baynes (Bird)
Dario Saric (RFA; Bird)
Jevon Carter (RFA; Early Bird)
---
2020 Draft Assets
First Round:
Second Round:
The Suns have their own first-round pick, but traded away their second-round pick (No. 40) to the Grizzlies in a salary-dump deal last July that sent Josh Jackson, Kyle Korver, and De'Anthony Melton to Memphis.
---
Three Key Offseason Questions
1. Was the Suns' end-of-season success for real?

Although the Suns ultimately fell short of qualifying for a play-in tournament for the final postseason spot in the Western Conference, their summer success was one of the biggest early stories of the NBA's restart.
Critics initially questioned why Phoenix – which entered the summer with a 26-39 record, good for 13th in the Western Conference – was even invited to Orlando, but no other team matched the Suns' 8-0 record during seeding games.
That end-of-season run was a great sign for the franchise going forward, but it will be up to the Suns' front office to properly evaluate what it means heading into the offseason. Overachieving teams can get into trouble when they weigh a previous season's success too heavily and make win-now roster changes, ignoring the possibility of regression and assuming that success will carry over.
That doesn't mean the Suns should dismiss the positive developments that took place during their summer run. The ongoing improvements made by cornerstone building blocks Devin Booker and Deandre Ayton are great signs for the organization, as are the strides made by young role players like Cameron Johnson and Mikal Bridges.
However, it would be dangerous to assume the roster is just one or two pieces away from contention or to pencil Phoenix in for a playoff spot in a competitive conference next season based on the team's 8-0 summer. General manager James Jones and the Suns should focus on continuing to make sound decisions without skipping any steps or taking short-cuts in the roster-building process.
2. Will the Suns look to bring back their own players or create cap space?

The Suns' determination of how seriously to take their summer results will extend to their free-agents-to-be and players with options, many of whom either outperformed expectations or were non-factors during that 8-0 stretch.
Veteran big man Aron Baynes, for instance, had a great season in Phoenix, establishing new career highs in PPG (11.5), RPG (5.6), 3PT% (.351), and a handful of other categories while providing solid defense. But he didn't play at all during the summer as he recovered from the effects of a COVID-19 diagnosis. As the Suns evaluate whether to re-sign Baynes, will they weigh his full-season success more heavily than their unbeaten streak without him?
Fellow big man Frank Kaminsky is in a similar spot as Baynes — he had a decent season overall before being sidelined by a right knee injury, but struggled during the restart, playing sparingly and putting up just 3.7 PPG on .393/.167/1.000 shooting. As a result, it no longer seems all that likely that the Suns will pick up his $5MM option.
On the other hand, power forward Dario Saric thrived during the restart ahead of potential restricted free agency. He was the club's third-leading scorer in seeding games, behind Booker and Ayton, with 14.8 PPG, 7.6 RPG, and a red-hot .574/.524/.879 shooting line. Similarly, Cameron Payne was a pleasant surprise on his minimum-salary contract, averaging 10.9 PPG and making 51.7% of his three-pointers in eight seeding games.
If the Suns opt to move on from all their free agents and players with non-guaranteed contracts, they could create approximately $19MM in cap room. But if they start exercising options or re-signing players, that room will disappear in a hurry — especially if Saric or Baynes are retained. Their cap holds exceed $10MM and it might take an offer in that neighborhood to re-sign them.
The Suns have been named as potential suitors for some of the summer's top unrestricted free agents, including Fred VanVleet and Davis Bertans, but they can only realistically pursue those guys if they open up cap room. As ESPN's Bobby Marks (Insider link) suggests, a more prudent approach to the offseason might see Phoenix retaining Saric and Baynes on short-term deals and using the $9.3MM mid-level exception to seek out another reliable rotation player on the free agent market.
3. Will Kelly Oubre or Ricky Rubio be traded?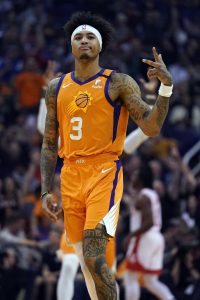 There's another route the Suns could go if they want to retain some of their free agents while also being a player for some of this offseason's top free agents. Oubre is on an expiring $14.4MM contract, while Rubio has two years and $34.8MM left on his deal — both veterans could be intriguing chips in trade talks.
Oubre, who underwent surgery on a torn meniscus in his right knee on March 3, is another player who wasn't in the Suns' lineup during their hot summer stretch. Throw in the fact that he'll reach free agency in 2021 and overlaps positionally with some young players on Phoenix's roster and you can make a case that the team should consider gauging his value on the trade market.
Oubre is entering his age-25 season and was having his best season as a pro before injuring his knee, so he'd fit into the Suns' long-term plans. But if there's a player on the free agent market the team wants to go after, acquiring an asset in exchange for Oubre and clearing his $14MM+ salary would be one way to clear cap space.
Another way would be moving Rubio, though he might be a slightly harder sell, since he's entering his age-30 season and has multiple years left on his contract. This seems like a longer shot to me, since we're just a year removed from Rubio being the free agent target the Suns had to create cap room to pursue. But Marks suggests that moving the veteran point guard and a draft pick to a team with space (like the Hawks) would be a way to open up the room to go after VanVleet.
Jones and the Suns will have some options this offseason. It'll just be a matter of deciding which players – either on the current roster or on the free agent market – the team wants to prioritize and which ones aren't part of the franchise's long-term vision.
Information from Basketball Insiders and ESPN was used in the creation of this post. Photos courtesy of USA Today Sports Images.