Hoops Rumors is previewing the 2020 offseason for all 30 NBA teams. We're looking at the key questions facing each club, as well as the roster decisions they'll have to make this fall. Today, we're focusing on the San Antonio Spurs.

---
Salary Cap Outlook
Unless DeMar DeRozan unexpectedly opts out and the Spurs don't re-sign Jakob Poeltl and/or Bryn Forbes, the odds of the team creating any cap room are slim. On the other hand, bringing back DeRozan, Poeltl, and Forbes might put San Antonio into luxury-tax territory unless the club cuts costs elsewhere.
I don't expect Spurs ownership to pay the tax for the current roster, so perhaps the team will let Poeltl or Forbes walk or trade one of its many veterans on expiring contracts. Depending on certain roster decisions, San Antonio could have the non-taxpayer mid-level exception ($9.26MM) and bi-annual exception ($3.62MM) available, but may ultimately be limited to just the taxpayer MLE ($5.72MM).
Our full salary cap preview for the Spurs can be found right here.
---
Roster Decisions To Watch
Options:
DeMar DeRozan, player option: $27,739,975 (Oct. 13 deadline)
Non-Guaranteed Contracts:
Two-Way Contracts:
Free Agents:
---
2020 Draft Assets
First Round:
Second Round:
The Spurs don't make a habit of trading away draft picks – or stockpiling extra ones – so it comes as no surprise that their only two selections in the 2020 draft are their own.
---
Three Key Offseason Questions
1. Will the Spurs run it back again with DeMar DeRozan and LaMarcus Aldridge?

DeRozan and Aldridge were as efficient as ever on offense in 2019/20. DeRozan's .531 FG% was easily a career high, while Aldridge enjoyed the best three-point shooting season of his career (.389 3PT% with 1.2 makes per game).
However, DeRozan is now 31 years old and Aldridge is 35. Both players are entering potential contract years, with DeRozan considered likely to exercise his $27.7MM player option for 2020/21. And San Antonio is coming off a 32-39 season — that's the team's worst record and the first time it has missed the playoffs since 1997.
On top of all that, the Spurs reportedly shopped Aldridge at this year's trade deadline, and there were rumblings shortly thereafter that DeRozan wasn't thrilled with his situation in San Antonio. In other words, all signs point to the team considering the idea of seeing what it can get for its two veterans on the trade market this offseason and handing the reins to its young up-and-comers.
Still, the Spurs have never really shown a taste for making biggest splashes on the trade market unless their hand is forced, as it was in the case of Kawhi Leonard. And the aforementioned report which said the club shopped Aldridge at the deadline also noted that rival teams believed San Antonio's asking price was far too high. It may be difficult for the Spurs to extract a ton of value for DeRozan at $27.7MM or Aldridge at $24MM.
Gregg Popovich's status is also an X-factor here. He turns 72 years old in January and presumably doesn't plan to coach the Spurs for a whole lot longer. Would a pivot to the team's youth be what San Antonio's longtime head coach and president of basketball operations has in mind for his final year(s)?
2. Is this Gregg Popovich's last year with the Spurs?

While we're on the subject, it's worth considering what exactly Popovich's future holds, since it could have an impact on how the Spurs approach the next year or two.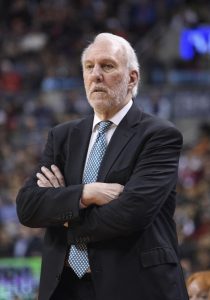 In recent years, there had been a general perception – unconfirmed by Popovich – that the Spurs' head coach would stick around through 2020, then coach Team USA at the Tokyo Olympics as a possible last hurrah.
The coronavirus pandemic has complicated matters. Not only have those Olympics been postponed until 2021, but there's uncertainty about whether NBA players and coaches will even be able to fully participate, since a delayed '20/21 season could very well overlap with the rescheduled Olympics.
Assuming the NBA can figure out a plan to either finish its season before the Olympics or include a break in its schedule to accommodate them, it seems likely that Popovich will still coach Team USA as long as he can safely do so. And it sounds as if the Spurs expect Popovich back on their sidelines for the 2020/21 season.
While it may look a little different than what we initially envisioned, perhaps the original theory – that Popovich will coach the Spurs up until the Olympics and then call it a career after the Tokyo games – is still in play.
Of course, even if the upcoming season is Popovich's last, it's possible it won't have a major impact on the franchise's roster decisions. It probably wouldn't fit Popovich's style to seek out any sort of win-now moves for his final go-round — I could just as easily see him embracing a partial rebuild before handing things off to a successor such as Becky Hammon, Will Hardy, or Tim Duncan.
Either way, Popovich has had such a hand in shaping the Spurs' culture over the last 25 years that it will be fascinating to see how the team transitions out of his tenure and looks to carry over that culture to a new era.
3. Will Jakob Poeltl and Bryn Forbes be back?

Poeltl, who was one of the players the Spurs acquired in the Leonard blockbuster, will be a restricted free agent this offseason and is entering his age-25 season. Forbes, who just turned 27, has been a full-time starter for San Antonio in each of the last two seasons.
As I noted above, re-signing both players to market-value deals would potentially put the Spurs in tax territory if no cost-cutting roster moves follow. Still, I'd be a little surprised if the team lets either player get away.
Poeltl's numbers per 36 minutes (11.5 rebounds, 2.9 blocks) show his value as a rebounder and rim protector, and it feels as if he has more room to grow. The Spurs' front office will want to recoup as much value as it can from the trade that helped send the Raptors to a championship. With the ability to match any offer sheet for Poeltl, San Antonio should retain him.
As for Forbes, he has been one of the Spurs' most reliable three-point shooters over the last two seasons, knocking down 40.8% of his attempts during that stretch as the club ranked 30th and 28th in three-point tries.
San Antonio's backcourt is loaded with young players, but Forbes is capable of sliding up to the three and playing alongside a pair of guards. Since he'll be unrestricted, there's no guarantee he won't look for a new deal elsewhere, but the Spurs have a history of overpaying a little to retain their own guys if they really want them back.
Assuming both Poeltl and Forbes are re-signed, the most logical way for the Spurs to shed some money would be to move one of their veterans on expiring contracts. Besides DeRozan and Aldridge, Rudy Gay ($14.5MM) and Patty Mills ($13.3MM) would also fit that bill.
Information from Basketball Insiders and ESPN was used in the creation of this post. Photos courtesy of USA Today Sports Images.