Hoops Rumors is previewing the 2020 offseason for all 30 NBA teams. We're looking at the key questions facing each club, as well as the roster decisions they'll have to make this fall. Today, we're focusing on the Oklahoma City Thunder.

---
Salary Cap Outlook
After paying tax penalties for five of the last six seasons, the Thunder don't project to be above the luxury-tax line in 2020/21. Still, with $101.75MM already committed to nine roster spots (eight guaranteed contracts and a first-round pick), it won't be easy to create any cap room. Barring a trade that significantly reduces salary, Oklahoma City will likely operate as an over-the-cap team.
In that scenario, the Thunder would have access to the full mid-level exception ($9.26MM) and bi-annual exception ($3.62MM). If the team cuts costs and ends up using cap space, it would lose those exceptions along with a couple sizeable trade exceptions, but would gain access to the room exception ($4.77MM).
Our full salary cap preview for the Thunder can be found right here.
---
Roster Decisions To Watch
Options:
Non-Guaranteed Contracts: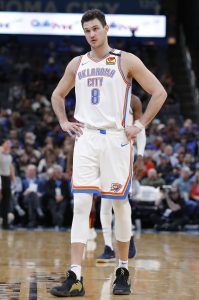 Two-Way Contracts:
Free Agents:
---
2020 Draft Assets
First Round:
Second Round:
The Thunder's first-round pick this year is Denver's pick, which they acquired last July. Oklahoma City's own pick (No. 21) was sent to Philadelphia back in 2016. In an odd coincidence, both selections were traded for Jerami Grant.
The second-round pick is the Thunder's own. Because they technically won a three-way tiebreaker in the first round (which the Sixers benefited from), the Thunder's second-rounder landed at No. 53 instead of 51 or 52.
---
Three Key Offseason Questions
1. Is Sam Presti ready to launch a rebuild?

The Thunder finished the 2019/20 season tied for the fourth-best record in the Western Conference (44-28) and pushed the Rockets to seven games in the first round before being eliminated.
The team outperformed expectations this season, but there's reason to believe that success could be replicated in 2020/21. Chris Paul, Dennis Schröder, and Steven Adams are still under contract. So are Shai Gilgeous-Alexander, Luguentz Dort, and Darius Bazley, and they should only improve going forward. Danilo Gallinari could be re-signed without going into tax territory. And with all the future first-round picks Oklahoma City has in hand, adding an impact player in a trade isn't out of the question either.
However, there are signs the Thunder aren't planning to go in that direction. The most glaring of those is the team's inability to come to an agreement with head coach Billy Donovan, who elected to part ways with OKC despite receiving a multiyear contract offer from the club.
Reports at the time of the split – as well as comments from Presti himself – indicated that the Thunder and Donovan might not have been on the same page regarding the direction in the franchise. In other words, Donovan didn't want to stick around only for the roster to undergo a retooling process, while Presti seems far more prepared to go in that direction.
With Gilgeous-Alexander, Dort, and Bazley all locked up for multiple years, the Thunder have a promising young core and won't require a full teardown. But it wouldn't be a surprise if Paul, Gallinari, Schröder, and Adams are all gone a year from now.
Gallinari is an unrestricted free agent this fall, so if the Thunder don't re-sign him, their only hope of getting value in return would be through a sign-and-trade. Schröder and Adams will each be on expiring contracts in 2020/21, but the former will have much more trade value than the latter, whose $27.5MM cap hit will make it tricky find a taker. Paul, who is owed $85MM+ over the next two years, is the most fascinating trade candidate of the bunch — we'll dig deeper into his situation below.
While I expect the Thunder to explore the trade market for all of those veterans this offseason, I don't think there's any urgency for the team to make deals right away. That's especially true for guys like Paul and Adams. If trade partners aren't willing to take on their oversized contracts without draft compensation, Oklahoma City can afford to be patient.
Adams will be off the books in 2021 and Paul will be entering the final year of his deal at that point. It's not as if the Thunder need to clear cap room immediately in order to pursue free agents. Dipping into their cache of future first-round picks just to get off Adams' or Paul's contracts a year early would be a misuse of those resources.
In essence, while Presti and the Thunder may be prepared to retool their roster, there's no need for a full teardown and there's no rush to clear out the veterans as soon as possible. This rebuild can be a gradual one, and fully bottoming out shouldn't be necessary.
2. Will Chris Paul be traded this offseason?

Paul is one of the NBA's most interesting trade candidates this fall. He's only a year removed from being attached to two first-round picks and two first-round pick swaps in a deal for Russell Westbrook, but his value has increased since then for a few reasons.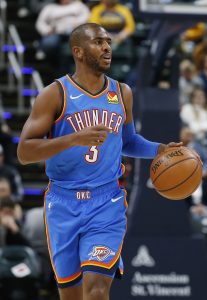 For one, Paul had a terrific year in 2019/20, staying healthy all season and averaging 17.6 PPG, 6.7 APG, and 5.0 RPG with a .489 FG% in 70 games (31.5 MPG), earning his first All-Star nod since 2016. Teams with interest in acquiring CP3 will recognize that he's still an injury risk, but the fact that he continues to play at such a high level is encouraging — his production is unlikely to fall off a cliff in 2020/21 as long as he stays relatively healthy.
Paul's oversized contract is also one year closer to ending now. If a team acquires him and doesn't get the sort of production it hoped for, his cap hits ($41.4MM in '20/21, $44.2MM in '21/22) will be onerous in the short term, but won't ruin the club's flexibility for years to come.
This year's week free agent class also helps boost Paul's appeal. There are two 2020 All-Stars who are free agents this offseason, but both of them – Anthony Davis and Brandon Ingram – are highly likely to return to their current teams. Teams looking to add an All-Star caliber impact player may view a trade for Paul as their best bet to do so.
Paul's fate will ultimately come down to what sort of offers Oklahoma City gets. The Thunder's ability to extract a first-round pick in a package for CP3 – or willingness to include one themselves – will hinge on what the rest of the return looks like.
For instance, I don't think there's any way the Thunder will attach a future first-rounder to Paul if the Sixers want them to take on Tobias Harris' or Al Horford's long-term contract, or if the Bucks want them to take Eric Bledsoe and other salary filler. In those scenarios, OKC would likely ask its trade partner to include a first-rounder.
On the other hand, if the Thunder's return includes a promising young player who could become a building block in Oklahoma City, the team would presumably be more willing to surrender a future first-rounder in addition to Paul. It's more difficult to construct a hypothetical deal along these lines. If the Knicks were willing to include Mitchell Robinson in their offer, they could probably land Paul and draft assets. But I don't think New York would do that.
Although Paul's value is difficult to nail down, I don't see the Thunder viewing him as a salary dump. If they're going to move him this fall, they'll want some combination of cap relief, a draft pick, and/or players who can contribute. If the Thunder don't get any offers that fit that bill, they can afford to hang onto their veteran point guard for the time being, as they did a year ago.
3. Who will the Thunder hire as their head coach?

There haven't been many updates out of Oklahoma City on the team's head coaching search since Donovan's departure more than a month ago. I imagine the Thunder began the process of seeking a replacement at some point since then, so the radio silence is likely by design rather than an indication of inactivity.
Even without any leaks, we can make a few assumptions about the Thunder's search.
For instance, based on the divide between Donovan and the organization, it's a good bet that the club will be seeking a coach who's comfortable with the idea of overseeing a rebuild.
Additionally, given the financial impact of the coronavirus pandemic, I can't see Oklahoma City paying big money to a head coach if the club doesn't expect to be contending in the short term.
Those clues point to the Thunder targeting an up-and-coming candidate who may not have any previous head coaching experience. That lack of experience should keep his – or her – price tag in check. Still, the Thunder will want someone who has spent some time on NBA staffs so that they're not hiring an entirely unknown commodity.
That profile fits with the few names we've heard linked to the job. ESPN's Brian Windhorst initially identified Timberwolves associate head coach David Vanterpool, Raptors assistant Adrian Griffin and Spurs assistant Will Hardy as contenders, while Shams Charania of The Athletic later confirmed OKC's interest in Hardy and added Thunder assistant Brian Keefe to the list of candidates.
Griffin and Keefe each have more than a decade of experience as NBA assistants under their belts and have worked for at least three teams apiece during that time. Vanterpool began his coaching career as a CSKA Moscow assistant and has worked on the Blazers' and Wolves' staffs since returning stateside in 2012. Hardy has only worked for the Spurs, but has made an impressive rise through the ranks since joining the team's video department in 2011 and is now one of Gregg Popovich's top lieutenants.
It's possible the Thunder's list of coaching candidates will continue to grow in the coming days or weeks. Based on what we know so far though, it sounds like the club will be targeting a veteran assistant who has proven his bona fides at the NBA level and is ready for a promotion.
Information from Basketball Insiders and ESPN was used in the creation of this post. Photos courtesy of USA Today Sports Images.