Hoops Rumors is looking ahead at the 2020/21 salary cap situations for all 30 NBA teams. Due to the impact of the coronavirus pandemic on the NBA, it's impossible to know yet where the cap for 2020/21 will land. Given the league's lost revenue, we're assuming for now that it will stay the same as the '19/20 cap, but it's entirely possible it will end up higher or lower than that.

After trading away Russell Westbrook, Paul George, and Jerami Grant last July, the Thunder seemed on track for a rebuild. However, even after spending the offseason stockpiling draft picks, Oklahoma City still had too much talent on its roster to bottom out.
Instead of returning to the lottery, the Thunder emerged as a no-doubt playoff team in the West, entering the hiatus with a 40-24 record that placed them fifth in the conference. Some form of rebuilding is probably still around the corner for the franchise, but it looks as if OKC will be able to remain competitive during that transition.
Here's where things stand for the Thunder financially in 2020/21, as we continue our Salary Cap Preview series:
Guaranteed Salary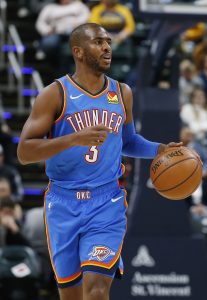 Chris Paul ($41,358,814)
Steven Adams ($27,528,088)
Dennis Schroder ($15,500,000)
Shai Gilgeous-Alexander ($4,141,320)
Terrance Ferguson ($3,944,013)
Darius Bazley ($2,399,160)
Luguentz Dort ($1,517,981)
Isaiah Roby ($1,517,981)
Kyle Singler ($999,200) — Waived via stretch provision
Patrick Patterson ($737,067) — Waived via stretch provision
Total: $99,643,624

Player Options
Team Options
Non-Guaranteed Salary
Restricted Free Agents
Unrestricted Free Agents / Other Cap Holds
Danilo Gallinari ($33,923,339): Bird rights
Andre Roberson ($16,111,110): Bird rights
No. 25 overall pick ($2,105,520)
Nerlens Noel ($1,620,564): Early Bird rights
Norris Cole ($1,620,564): Non-Bird rights 3
Nick Collison ($1,620,564): Bird rights 3
Raymond Felton ($1,620,564): Early Bird rights 3
Jawun Evans ($1,445,697): Non-Bird rights 3
Total: $60,067,922
Offseason Cap Outlook

A taxpaying team for all but one of the last six seasons, the Thunder are finally in position to remain below that threshold in 2020/21, even if the cap doesn't increase.
Re-signing Gallinari would push team salary well beyond the cap, and even if they don't bring him back, the Thunder figure to operate as an over-the-cap team. But there's some flexibility here that Oklahoma City didn't have in past seasons. That flexibility should only increase as pricey contracts for Paul, Adams, and Schroder expire in the next couple years.
Cap Exceptions Available
Mid-level exception: $9,258,000 4
Bi-annual exception: $3,623,000 4
Trade exception: $10,389,997 (expires 7/10/20)
Trade exception: $9,346,153 (expires 7/8/20)
Trade exception: $1,620,564 (expires 1/25/21)
Footnotes
If his team option is exercised, Nader's salary remains non-guaranteed.
If his team option is exercised, Burton's salary becomes partially guaranteed for $1,174,336.
The cap holds for Cole, Collison, Felton, and Evans remain on the Thunder's books because they haven't been renounced after going unsigned in 2019/20. They can't be used in a sign-and-trade deal.
These are projected values. If the Thunder's team salary continues to increase, it's possible they'd be limited to the taxpayer mid-level exception ($5,718,000).
Note: Minimum-salary and rookie-scale cap holds are based on the salary cap and could increase or decrease depending on where the cap lands.
Salary information from Basketball Insiders and Early Bird Rights was used in the creation of this post. Photo courtesy of USA Today Sports Images.