Anthony Davis isn't expected to exercise his $28.75MM player option for the 2020/21 season, but there's also no expectation that he'll leave Los Angeles, according to Shams Charania of The Athletic, who reports that the star big man intends to opt out and then re-sign with the Lakers.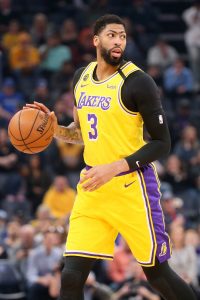 As Charania details, the plan is for Davis and agent Rich Paul to hold meetings in the coming weeks leading up to free agency to discuss the situation and determine the contract length and structure that is "most sensible" for the 27-year-old.
The Lakers are expected to offer Davis whatever form of max contract he wants, whether it's for one year or five, so it will be up to AD and Paul to decide the best route for the seven-time All-Star.
There are several factors to consider, including the state of the NBA's salary cap for the next couple seasons due to the coronavirus pandemic. Additionally, Davis will be eligible for a more lucrative "maximum" salary in 2022, when he'll have 10 years of NBA experience and will be eligible for a starting salary worth 35% of the cap instead of 30%.
Assuming the cap doesn't increase for the 2020/21 season, Davis would be in line for a max salary of $32,472,000 next season, which is why he'll turn down his $28,751,774 option. If he tacks on extra years to his new deal, he can receive 8% annual raises, regardless of future salary cap increases. With so much uncertainty surrounding the cap, a multiyear deal that locks in those raises could end up being more player-friendly.
If Davis signs a two-year deal with a second-year player option or a three-year deal with a third-year player option, he'd be in a position to sign a new long-term contract in 2022. The hope would be that the NBA has mostly recovered from the impact of the coronavirus by that point and that the cap would be on the rise again. Even if it the cap hasn't significantly increased by then though, it'd be a good time for Davis to sign a new contract that would start at 35% of the cap.
Davis, who was sent from New Orleans to Los Angeles last summer in a blockbuster trade, had a monster first year with the Lakers, averaging 26.1 PPG, 9.3 RPG, 3.2 APG, and 2.3 BPG in 62 regular season games (34.4 MPG).
He finished sixth in MVP voting and second in Defensive Player of the Year voting, helping lead the club to the West's No. 1 seed. He followed up a dominant regular season by recording 27.7 PPG, 9.7 RPG, 3.5 APG, and 1.4 BPG in 21 postseason contests en route to the first title of his career.
Given the success he enjoyed as a Laker, there has never been any real doubt that Davis would re-up with the franchise, even if he was noncommittal when asked about it earlier this week following the team's Game 6 win.
Photo courtesy of USA Today Sports Images.