NOVEMBER 30: The Celtics have officially signed Teague, the team announced today in a press release.
---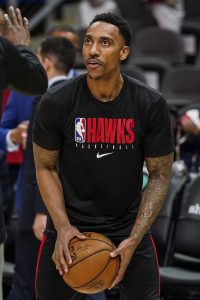 NOVEMBER 21: The Celtics are signing veteran point guard Jeff Teague to a one-year deal, a league source tells Adam Himmelsbach of The Boston Globe (Twitter link).
The move comes on the heels of a report that former Celtics point guard Brad Wanamaker has reached an agreement to sign Golden State. Teague, a former All-Star, figures to play a similar role to the one Wanamaker played in 2019/20, serving as the primary backup for Kemba Walker.
Teague, 32, averaged just 24.8 minutes per contest this past season – his lowest mark since 2010/11 – in 59 total games for the Timberwolves and Hawks. However, he was still relatively productive, averaging 10.9 PPG and 5.2 APG with a .436/.368/.873 shooting line on the season.
A few weeks before reaching free agency, Teague spoke to Michael Scotto of HoopsHype about his priorities, indicating that – after spending last season with two lottery-bound teams – he wasn't eager to join another rebuilding team.
"Honestly, I just want to go to a team where we're playing to win. I want to win," Teague said at the time. "… If that's starting or coming off the bench, I just want to play a significant role in winning. That's really it for me. I know if I get a chance to play and compete, I'm going to play well. I'm not really worried about an exact situation, or I need to be able to start or whatever."
He'll get a chance to play for a winning team in Boston, as the Celtics look to make another deep playoff run after earning a spot in the Eastern Finals in three of the last four seasons.
Photo courtesy of USA Today Sports Images.