NOVEMBER 24: The Jazz have officially signed Mitchell to his new five-year extension, per the NBA's transactions log. According to Michael Scotto of HoopsHype (Twitter link), the deal features a 15% trade kicker.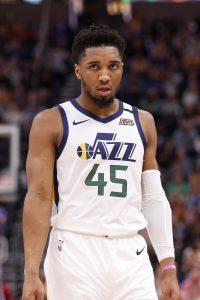 ---
NOVEMBER 22: Jazz star Donovan Mitchell will sign a maximum rookie scale extension, tweets ESPN's Adrian Wojnarowski. The deal will cover five seasons, starting in 2021/22, and will include a fifth-year player option for the '25/26 season, reports ESPN's Bobby Marks (via Twitter).
Mitchell will be guaranteed 25% of the salary cap, which would make the total value of the deal around $163MM over five years. That figure could rise to 30% if he meets All-NBA criteria for the upcoming season, which would put the contract in the neighborhood of $195MM. Those projections rely on an annual 3% increase in the cap, so the actual value could vary.
Mitchell will earn about $5.2MM in 2020/21, the last year of his rookie contract, before the extension officially begins a year from now.
The 13th overall pick in the 2017 draft, Mitchell has become a star in Utah during his three NBA seasons and is coming off his first All-Star appearance. He averaged a career-best 24.0 points per game last season and followed that with a historic playoff performance, scoring 36.3 PPG in the seven-game loss to the Nuggets.
He has improved his averages in several key statistical categories – including points and assists per game, as well as three-point percentage – in each of his three professional seasons and is still just 24 years old.
Utah has gotten most of its offseason business out of the way during the first 48 hours of the free agency period, having agreed to re-sign Jordan Clarkson and reaching a deal to bring back Derrick Favors using their mid-level exception.
Having locked up Mitchell, the Jazz are expected to focus on a new contract for center Rudy Gobert, who is also eligible for an extension. Gobert will reach unrestricted free agency in 2021 if the two sides don't agree to a new deal before then.
Photo courtesy of USA Today Sports Images.