NOVEMBER 28, 3:18pm: Adebayo has officially signed the contract, according to a team press release.
---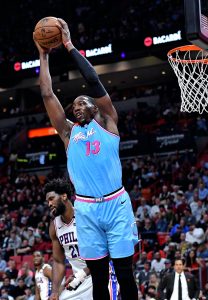 NOVEMBER 24, 2:39pm: The Heat and Adebayo have agreed to terms on the extension, reports ESPN's Zach Lowe (Twitter link). It's straight five-year deal, with no player or team option, according to Anthony Chiang of The Miami Herald (Twitter link).
Shams Charania of The Athletic (Twitter link) confirms that Adebayo's new maximum-salary extension will have Rose Rule language and could start at up to 30% of the 2021/22 cap rather than 25%, as detailed below.
---
NOVEMBER 24, 12:29pm: The Heat are moving forward with a contract extension for fourth-year big man Bam Adebayo, according to Ira Winderman of The South Florida Sun Sentinel (Twitter link). Tim Reynolds of The Associated Press confirms (via Twitter) that the club is in the process of extending Adebayo's deal.
Adebayo was one of two dozen players eligible for a rookie scale extension entering the offseason. Coming off a breakout year, he looked like one of the most deserving candidates for a new deal, along with Jayson Tatum, Donovan Mitchell, and De'Aaron Fox, all of whom have agreed to maximum-salary extensions in recent days.
However, the Heat's salary cap situation complicated the team's decision. Miami has been focused on preserving as much cap room as possible for the 2021 offseason, and a new deal for Adebayo will increase his cap charge from a hold worth about $15MM to a new salary worth at least $28MM (f he gets the max), eliminating the possibility of a max-salary slot for a free agent.
The fact that the Heat are now moving forward on an extension for Adebayo could mean a number of things. Maybe Adebayo wasn't waiting a year for his new contract; maybe the Heat remain confident that if a star like Giannis Antetokounmpo is available and wants to play in Miami next year, they'll be able to figure it out even without the necessary cap room, like they did for Jimmy Butler in 2019; or maybe the Heat believe Antetokounmpo is becoming more likely to sign a super-max extension with the Bucks and remain in Milwaukee.
According to Barry Jackson of The Miami Herald (Twitter link), someone who knows Giannis well told him that the reigning MVP would be impressed by the Heat extending Adebayo early rather than making him wait until next year. Still, if Antetokounmpo is moving closer to accepting a deal with the Bucks, Adebayo's agent Alex Saratsis would certainly know about it — he also represents Giannis.
Whatever the thinking, it's good news for Adebayo, who was a full-time starter for the Heat in the first time in 2019/20 and responded with an All-Star performance, averaging 15.9 PPG, 10.2 RPG, and 5.1 APG in 72 games (33.6 MPG).
He also helped anchor Miami's defense, blocking 1.3 shots per game and averaging 1.1 steals as well. His play was crucial in helping the Heat reach the NBA Finals, though his ability to contribute in that series against the Lakers was compromised by a neck injury.
The Heat are expected to give Adebayo a five-year maximum-salary contract that will match the ones signed by those other young stars from his draft class, as Winderman reports. That would put the 23-year-old on track to earn at least $163MM and as much as $195.6MM over the life of the deal, based on current cap projections. The new contract will begin in 2021/22, once his rookie deal expires.
Photo courtesy of USA Today Sports Images.