NOVEMBER 18, 11:46pm: The deal is now official, the Lakers confirmed in a press release. The Lakers received Schröder in exchange for Green and the draft rights to No. 28 pick Jaden McDaniels, who will be flipped to Minnesota in a separate trade. Green will also be moved in another deal.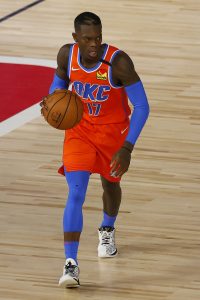 ---
NOVEMBER 15, 10:56am: The teams have an agreement in principle on a deal, tweets Shams Charania of The Athletic.
---
NOVEMBER 15, 10:02am: The Lakers are expected to acquire guard Dennis Schröder from the Thunder when the trade moratorium lifts on Monday, tweets ESPN's Adrian Wojnarowski. Oklahoma City will receive the 28th pick in Wednesday's draft and guard Danny Green in return.
Woj adds that the trade is "well on course to be completed" and that other teams that were pursuing Schröder have moved on to different players.
L.A. owes a protected first-rounder in 2021 to the Pelicans, so the deal can't be finalized until the Lakers make their draft pick Wednesday night, points out Bobby Marks of ESPN (Twitter link).
Schröder, 27, will make $15.5MM this season in the final year of his contract. He has spent two years in Oklahoma City and averaged 18.9 points and 4.0 assists off the bench last season. In Los Angeles, he'll become a primary play-maker for the Lakers and could be the team's third scoring option behind LeBron James and Anthony Davis.
Green, 33, will make $15.4MM in 2020/21, so the salaries match up for a deal. He signed with the Lakers last summer and averaged 8.0 PPG in 68 games. He has played for the last two NBA champions and will be a free agent again in 2021.
Schröder may be just the first of several veterans moved by Oklahoma City this fall — Chris Paul and Steven Adams are also considered trade candidates. Theoretically, the team could also immediately flip Green to a new team as well.
Photo courtesy of USA Today Sports Images.