Jazz point guard Mike Conley won't exercise the early termination option on his contract for the 2020/21 season, reports Chris Haynes of Yahoo Sports (via Twitter).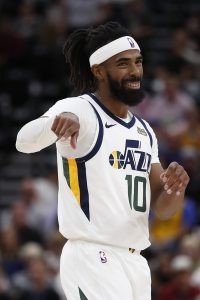 Unlike a standard player option, an early termination option must be exercised in order for the player to reach free agency immediately — as its name suggests, it ends the contract early. By waiving that ETO, Conley is essentially opting into the final year of his contract in '20/21. He'll earn a $34.5MM salary next season before becoming a free agent in 2021.
Conley's decision doesn't come as a surprise. Following a somewhat up-and-down first year in Utah in 2019/20, the 33-year-old was unlikely to come anywhere close to matching his $34.5MM salary if he had opted for free agency and signed a new deal — especially with the NBA's salary cap remaining flat at $109MM.
After 12 seasons with the Grizzlies, Conley was sent from Memphis to Utah last summer. He averaged 14.4 PPG, 4.4 APG, and 3.2 RPG with a .409/.375/.827 shooting line in 47 games (29.0 MPG) for the Jazz. The veteran guard got more consistent and found his footing as the season went on, recording 19.8 PPG and 5.2 APG on .484/.529/.864 shooting in five postseason contests.
With Conley, Donovan Mitchell, Rudy Gobert all locked up for next season and Bojan Bogdanovic expected to be back following wrist surgery, the Jazz will be looking to make a deeper playoff run in 2021. The team is expected to focus on bolstering its wing defense this offseason, as well as possibly extending both Mitchell and Gobert.
Accounting for Conley's substantial cap hit, Utah is now an over-the-cap team, with approximately $112MM in guaranteed money committed to eight players. Even after adding the cap hold for their first-round pick and multiple non-guaranteed salaries to that figure, the Jazz should have the flexibility to use their full mid-level exception and/or re-sign Jordan Clarkson.
Photo courtesy of USA Today Sports Images.