NOVEMBER 24: The Raptors have formally announced their new deal with VanVleet.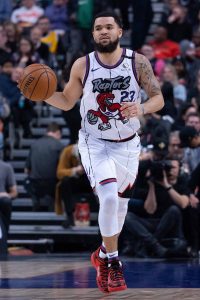 "In the last four years, we've seen Fred move from leader of Raptors 905, to leader of the Bench Mob to a leader of a championship team. The constant has been his leadership, no matter his role," team president Masai Ujiri said in a statement. "We look forward to the coming years with Fred as one of the voices and hearts of our team. We bet on Fred."
---
NOVEMBER 21: The Raptors have agreed to re-sign Fred VanVleet, according to Shams Charania of The Athletic, who reports (via Twitter) that VanVleet's new deal will be for four years and will be worth $85MM. It'll feature a player option in the final season, Charania adds (via Twitter).
The agreement represents a major payday for VanVleet, who went undrafted out of Wichita State in 2016 and spent part of his rookie season playing in the G League. The Raptors point guard emerged in 2017/18 as a part of the team's regular rotation, earning a two-year, $18MM deal in the summer of 2018.
On that contract, VanVleet continued to take significant strides, playing a key role in the Raptors' championship run in 2019 and then entering the starting lineup on a full-time basis last season. He established new career highs in PPG (17.6), APG (6.6), RPG (3.8), and several other categories in 54 games for Toronto in 2019/20.
While the Raptors were always viewed as the frontrunners to re-sign VanVleet, he was expected to receive interest from other teams, especially those with the cap room necessary to give him a deal in the range of $20MM annually. The Knicks were said to have some interest and – according to Vincent Goodwill of Yahoo Sports (Twitter link) – Detroit was also in the mix. The Pistons bowed out when the bidding got too rich for their liking, per Goodwill.
The Raptors now have Pascal Siakam and VanVleet locked up for the next four seasons. The team has reportedly been making an effort to keep its 2021 cap sheet relatively clean in the hopes of making a run at a star free agent such as Giannis Antetokounmpo. VanVleet's new deal will cut into Toronto's space, but a max slot remains a possibility, depending on what subsequent moves the Raptors make.
VanVleet's contract will start at $21.25MM in 2020/21 before declining by 8% in year two, according to Michael Grange of Sportsnet.ca, who notes (via Twitter) that the structure will help the Raps preserve as much cap space as possible for next summer.
Interestingly, the terms of VanVleet's deal reported by Charania match up exactly with the four-year, $85MM contract Malcolm Brogdon received from Indiana a year ago. We've been hearing for months that Brogdon's deal would likely set the market and be a point of comparison for VanVleet. It appears the Raptors and VanVleet's camp agreed.
Photo courtesy of USA Today Sports Images.