5:30pm: The Bucks officially announced their new agreement with Antetokounmpo (via Twitter).
---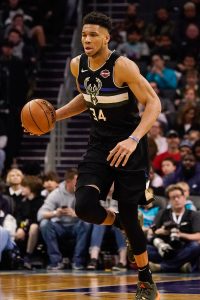 3:35pm: Antetokounmpo's super-max extension will feature a 15% trade kicker, reports Charania (via Twitter). Since a player's trade bonus can't push his salary above his maximum, that's unlikely to matter unless the cap rises significantly during the later years of Giannis' new deal.
---
12:23pm: Giannis Antetokounmpo has decided to sign a five-year, super-max contract extension with the Bucks, per Shams Charania of The Athletic (Twitter link). Antetokounmpo published an Instagram post announcing the news.
"This is my home, this is my city," he wrote. "I'm blessed to be able to be a part of the Milwaukee Bucks for the next five years. Let's make these years count. The show goes on, let's get it."
The deal, which will feature a starting salary worth 35% of the salary cap, projects to be worth $228.2MM over five years, making it the largest contract in NBA history, Charania notes. The exact value will depend on how much the salary cap increases for the 2021/22 season — the $228.2MM projection is based on a presumed 3% cap bump.
In that scenario, Antetokounmpo would make $39,344,970 in year one, with annual 8% raises resulting in a fifth-year salary of $51,935,362 in 2025/26. That final year will be a player option, agent Alex Saratsis tells ESPN's Adrian Wojnarowski (Twitter link).
Antetokounmpo's decision to sign the Bucks' super-max extension offer, which has been on the table since the new league year began last month, is a massive development for the franchise. Milwaukee now has the two-time MVP locked up for the next five seasons and can focus on continuing to build a championship-caliber roster around him.
The Bucks' efforts to bolster their roster around Antetokounmpo included trading multiple future first-round picks and pick swaps last month to acquire standout guard Jrue Holiday from the Pelicans. Milwaukee also attempted to land Bogdan Bogdanovic in a sign-and-trade, but that deal ultimately fell apart, forcing the club to look elsewhere on the free agent market. The Bucks instead signed D.J. Augustin, Bobby Portis, Bryn Forbes, and Torrey Craig to fill out their rotation.
There was some speculation that the Bucks' failed effort to bring Bogdanovic to Milwaukee may dampen Antetokounmpo's enthusiasm for an extension, since he was said to be high on the idea of teaming up with the Serbian swingman. However, if that was the case, it wasn't enough to dissuade Giannis from locking in a new deal with the Bucks before the December 21 super-max deadline.
Antetokounmpo, who turned 26 last Sunday, has led the Bucks' to the NBA's best regular season record in each of the last two seasons, establishing new career highs in 2019/20 with 29.5 PPG and 13.6 RPG in just 30.4 MPG (63 games).
In each of those last two years, the Bucks fell short of the NBA Finals, blowing a 2-0 lead to the Raptors in the 2019 Eastern Conference Finals and then losing to the Heat in the 2020 Eastern Semifinals. However, Antetokounmpo's long-term commitment to Milwaukee signals that he still believes in the club's ability to win a title, since he has long maintained that an ability to compete for a championship was his number one priority in deciding where he wants to play.
With Antetokounmpo no longer on track to reach free agency in 2021, a handful of teams around the NBA will have to reevaluate their plans for next summer. The Raptors, Heat, and Mavericks were among the clubs hoping to take a run at the All-NBA forward. They could still use their projected '21 cap room to pursue a star, but they'll have to target someone besides Giannis.
Once he makes it official with the Bucks, Antetokounmpo will become the sixth player to sign a super-max contract since the NBA introduced it in 2017, joining Stephen Curry, Damian Lillard, James Harden, Russell Westbrook, and John Wall, as Bobby Marks of ESPN tweets.
Antetokounmpo will also be the ninth player to sign a contract extension since the 2020/21 league year began and the seventh to ink a max deal, joining LeBron James, Paul George, Jayson Tatum, Donovan Mitchell, Bam Adebayo, and De'Aaron Fox.
Photo courtesy of USA Today Sports Images.