4:46pm: Kuzma has officially signed his extension with the Lakers, the team announced on social media (Twitter link).
---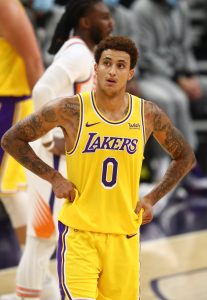 3:56pm: The Lakers and forward Kyle Kuzma have agreed to terms on a three-year contract extension worth $40MM, sources tell ESPN's Adrian Wojnarowski (Twitter link). The deal will include a third-year player option for the 2023/24 season, Wojnarowski reports.
Kuzma, 25, is the latest in a line of Lakers players that have agreed to lucrative new contracts this offseason. LeBron James and Anthony Davis signed maximum-salary deals that will keep them under team control through 2023 and 2024, respectively, while Kentavious Caldwell-Pope signed a contract similar to Kuzma's, though the final year of KCP's three-year, $39MM pact isn't fully guaranteed.
Those multiyear commitments to other key players likely helped open the door for a rookie scale extension for Kuzma in advance of Monday's deadline, since the Lakers no longer had to consider whether to try to carve out cap room during the next couple offseasons.
Kuzma, who averaged a career-high 18.7 PPG in 2018/19, played a reduced role last season following the arrival of Davis. His 12.8 PPG, 4.5 RPG, .436 FG%, and 25.0 MPG were all career-lows, as he struggled at times to establish a clear-cut role for the eventual champions.
However, the Lakers clearly still believe in the fourth-year forward, as exhibited by their willingness to lock in a deal that will guaranteed him $13MM+ per year once his current contract expires in 2021. Kuzma, the 27th overall pick in the 2017 draft, will earn $3.56MM in the final year of his rookie deal this season.
Kuzma is the fifth player to agree to a rookie scale extension so far this offseason, joining Jayson Tatum, Donovan Mitchell, Bam Adebayo, and De'Aaron Fox.
While Kuzma didn't get a maximum-salary commitment like those stars, he becomes the first player to receive a player option on a non-max rookie extension, according to Wojnarowski (via Twitter). That option will allow Kuzma to enter the unrestricted free agent market at age 28 if he outperforms his new deal.
As Bobby Marks of ESPN notes (via Twitter), Kuzma won't become ineligible to be traded this season as a result of his new extension. However, the poison pill provision would apply in a hypothetical deal, complicating salary matching and reducing the odds that he'll be moved anytime soon.
Photo courtesy of USA Today Sports Images.