8:04pm: The trade is now official, the Rockets announced in a press release.
---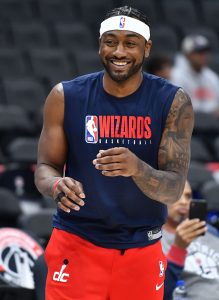 6:58pm: The Rockets and Wizards have agreed to swap star point guards, according to ESPN's Adrian Wojnarowski (Twitter link), who reports that John Wall is headed to Houston in exchange for Russell Westbrook.
The Rockets will also receive a first-round pick, per Woj. Shams Charania of The Athletic reports (via Twitter) that it'll be Washington's protected 2023 first-rounder and will be lottery-protected. Those protections will gradually decrease each year, and if it hasn't changed hands by 2026, it'll become two second-rounders, says Charania.
The deal involves two players on super-max extensions, notes Bobby Marks of ESPN (Twitter link). Westbrook will make $41.4MM and $44.2MM over the next two seasons with a player option in 2022/23 for $47.1MM. Wall is due $41.3MM and $44.3MM in the next two years, followed by a $47.4MM player option. His contract also includes a 15% trade bonus that will be voided because his salary is more than the league maximum for the upcoming season, Marks adds (Twitter link).
Both players issued trade requests to their respective teams in the past month. Westbrook's was reported November 11 after he told Rockets officials he has been "uneasy about the team's accountability and culture." He expressed a desire to join an organization where he will once again be the lead playmaker, which presumably will happen in Washington.
Wall's request came a little more than a week later, after news leaked that the Wizards had spoken to the Rockets about a possible swap for Westbrook. General manager Tommy Sheppard responded by saying the team had no plans to trade Wall.
Up until today, Sheppard and Rockets general manager Rafael Stone hadn't discussed a potential Westbrook/Wall trade since October, sources tell Wojnarowski. However, the two GMs revisited the idea and had worked out a deal within hours, according to Woj.
In Washington, Westbrook will be reunited with Scott Brooks, who was his head coach with the Thunder from his rookie season until 2015. Brooks has always been a huge fan of Westbrook and they remain close friends, tweets Fred Katz of The Athletic. Westbrook is also close with Wizards assistant Robert Pack from their time together in OKC, according to Marc J. Spears of The Undefeated (Twitter link).
Westbrook, 32, spent one season in Houston after being traded there last summer. He averaged 27.2 points, 7.9 rebounds and 7.0 assists in 57 games, but his poor outside shooting was an issue for a team that places a heavy emphasis on the three-pointer. Westbrook shot just 25.8% from long range during the season and 24.2% in the playoffs.
In Houston, Wall will join forces with former college teammate DeMarcus Cousins, who officially signed with the Rockets on Tuesday. Wall was sidelined last season with an Achilles tear and hasn't played at all since December of 2018. The 30-year-old was the top pick in the 2010 draft and has spent the past 10 seasons in Washington.
While the Rockets have now moved on from Westbrook, they don't believe that James Harden – who also reportedly wants to be traded – will be moved before opening night, tweets Tim MacMahon of ESPN. According to MacMahon, Houston recognized that the market for Westbrook was limited, but would seek a "king's ransom" in any Harden deal.
Meanwhile, in D.C., Bradley Beal has been the subject of frequent trade speculation for the last year or two, but the Wizards have insisted both publicly and privately that he won't be dealt, and Beal hasn't expressed any interest in a move. That stance seems unlikely to change before he gets a chance to assess his fit alongside Westbrook over the course of the '20/21 season.
Photo courtesy of USA Today Sports Images. Luke Adams contributed to this story.