11:00am: Gobert's extension is official, the Jazz announced in a press release.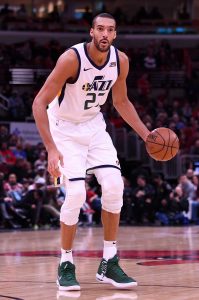 "Rudy is such a special player," new team owner Ryan Smith said in a statement. "He makes everyone on the court better. We couldn't be more excited about his commitment to this team, to Utah, and most importantly, to keeping this unique culture together."
---
9:13am: Rudy Gobert has reached an agreement on a five-year, $205MM extension with the Jazz, reports Tim MacMahon of ESPN. The final year of the deal will be a player option, according to Shams Charania of The Athletic (Twitter link).
"It means that they believe in me," Gobert told MacMahon, confirming the agreement. "They believe in what we've been building over the years with this whole organization, with coach (Quin Snyder) and all the guys. For me, it's an incredible blessing. It's a very motivating feeling to know that we all share the same vision and we all share this goal for this state and for this franchise."
The 28-year-old center was eligible to receive a super-max deal that would have been worth up to $228MM. He opted to take a little less so that Utah could have some financial flexibility to build the team around him and Donovan Mitchell, who also signed a five-year extension last month. There were reports of tension between Gobert and Mitchell after both players contracted COVID-19 in March, but they have now committed to a long-term future with the franchise.
Gobert's new deal is the third-largest in NBA history, MacMahon notes. The only bigger contracts are the new $228MM super-max deal for Giannis Antetokounmpo and the five-year, $206.8MM super-max that the Thunder gave Russell Westbrook in 2017.
Gobert is currently in the final season of a four-year, $102MM arrangement, and Utah has some flexibility with the parameters of his new contract, tweets Bobby Marks of ESPN. The Jazz could start the deal at $35.3MM for 2020/21, which is $4MM below 35% of the salary cap, with 8% raises each year. They could also opt to give him the full 35% at the beginning, which translates to a $39.3MM salary with 2.2% annual raises.
Gobert, who faced a Monday deadline to get a five-year extension finalized, has become one of the best centers in the league during his seven seasons in Utah. He won Defensive Player of the Year honors in 2017/18 and 2018/19 and has been an All-NBA selection in three of the past four years. The only thing missing from his resume is a long playoff run, which he believes the Jazz can accomplish soon.
"I want to win, and I feel like leaving this money on the table for the team just to be able to have better talent around me and Donovan was really important," Gobert said. "I want to win, and I believe in this group and I believe in this organization, and I was willing to leave that money on the table for them."
Gobert's new contract is the latest in a long line of lucrative extensions signed since the new league year began last month. Only three players – Anthony Davis, Brandon Ingram, and Gordon Hayward – signed free agent contracts worth more than $100MM this offseason, but Gobert is the seventh player to finalize an extension worth $160MM or more, as our tracker shows.
The deal also takes another marquee free agent off the market for 2021. Antetokounmpo, LeBron James, and Paul George are among the other stars who will no longer reach free agency next summer after signing extensions this year.
Photo courtesy of USA Today Sports Images.