JANUARY 28: The Nets have made it official, issuing a press release confirming the signing of Pelle. Brooklyn now has two open roster spots and will have to fill at least one of them within the next couple days.
---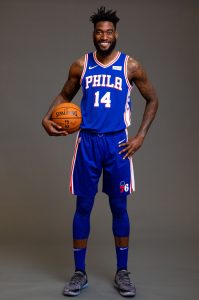 JANUARY 22: The Nets intend to fill one of the openings on their 15-man roster by signing free agent big man Norvel Pelle, agent BJ Bass tells Adrian Wojnarowski of ESPN (Twitter link). Pelle will have to clear the NBA's health and safety protocols before officially joining the team.
Pelle, who will turn 28 in February, spent last season with the Sixers, first on a two-way contract and later on a standard deal. He averaged 2.4 PPG, 2.2 RPG, and 1.3 BPG in 24 games (9.7 MPG) for Philadelphia in 2019/20, then was waived in the offseason before his salary for 2020/21 became guaranteed.
Pelle has had the opportunity to show off his defensive upside in the G League during the last two seasons, appearing in 44 games for the Delaware Blue Coats and averaging an eye-popping 2.9 blocks in just 22.8 minutes per game. He also contributed 11.6 PPG and 8.7 RPG in those 44 NBAGL contests.
The Cavaliers signed Pelle to an Exhibit 10 contract last month with an eye toward having him play for the Canton Charge this season, but it seems that won't happen now that he's headed to the Nets.
Given his relative lack of NBA experience, Pelle is unlikely to play big minutes in Brooklyn. However, his defensive skills and his ability to play the five should be of use to a more offensive-minded Nets team that lost some frontcourt depth by giving up Jarrett Allen in the blockbuster trade for James Harden.
Brooklyn will still have two open roster spots after signing Pelle and must fill at least one of them by next weekend.
Photo courtesy of USA Today Sports Images.