Throughout the season, Hoops Rumors takes a closer look at players who will be free agents or could become free agents this off-season. We examine if their stock is rising or falling due to performance and other factors. This week, we take a look at players from the Atlantic Division: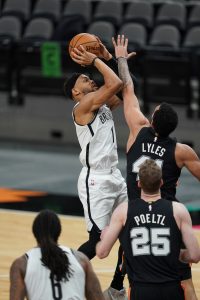 Bruce Brown, Nets, 24, SG (Up) – Signed to a three-year, $3.92MM deal in 2018
The Pistons uncovered a diamond in the rough when they selected Brown with the 42nd overall pick in 2018. Brown quickly became a starter due to his defensive prowess, so it was surprising when Detroit's new GM Troy Weaver dealt him in the off-season. He's become an increasingly important role player on the star-laden Nets with his all-around contributions.
In the last six games prior to the All-Star break, Brown averaged 18 PPG, 6 RPG and 3 APG. He becomes a restricted free agent after the season – if he receives an offer sheet, can Brooklyn afford to keep him given all its salary commitments? The way Brown is playing, the Nets can't afford to let him go.
Nerlens Noel, Knicks, 26, C (Up) – Signed to a one-year, $5MM deal in 2020
The Knicks have displayed dramatic improvement in part because players have settled into their roles. No one needed to tell Noel that he'd be the fifth option on the offensive end when he signed a one-year deal in the fall. The sixth pick in the 2013 draft had already carved a niche in the league as a post defender and rebounder.
With his team's other centers, Mitchell Robinson and Taj Gibson, sidelined prior to the break, coach Tom Thibodeau relied heavily on Noel to patrol the middle. Noel averaged 40 MPG in the last four games prior to the break and the Knicks won three of them. Noel ranks fourth in the league in blocks despite playing just 22.2 MPG. He'll continue to be valued for his strengths when he enters the free agent market again this summer.
Aron Baynes, Raptors, 34, C (Down) – Signed to a two-year, $14.35MM deal in 2020
The Raptors sit three games below .500 and are contemplating whether to trade long-time star Kyle Lowry. A big reason for their first-half struggles was the poor play of their middle men. Baynes seemed like a quality addition coming off a season with the Suns in which he posted career highs in points, rebounds and assists. It hasn't worked out that way. Among qualified centers, Baynes ranks dead last – 62nd overall – in ESPN's PER calculations.
The good news for the Raptors is that Baynes' $7.35MM salary for next season isn't guaranteed. He's posted best numbers the last few games but it's difficult to envision a scenario in which Baynes will ever see that money.
Jeff Teague, Celtics, 32, PG (Down) – Signed to a one-year, $2.56MM deal in 2020
Teague started on some good teams in Atlanta earlier in his career but he's bounced around the league the last few seasons. Seeking a chance to play for a contender, Teague signed a veteran's minimum deal with Boston to provide insurance behind Kemba Walker and his gimpy knees. He's generally been a non-factor, though he perked up during the Celtics' four-game winning streak heading into the break. With Marcus Smart returning to action and rookie Payton Pritchard earning steady minutes, Teague will likely find himself scrounging for playing time during the second half of the season.
Photo courtesy of USA Today Sports Images.