MARCH 10: The Jazz have officially signed Ilyasova, according to NBA.com's transactions log.
---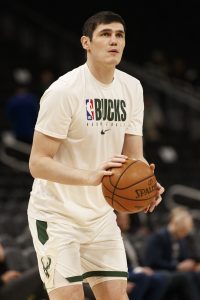 MARCH 9: Free agent power forward Ersan Ilyasova has agreed to a sign a rest-of-season, minimum-salary contract with the Jazz, sources tell Jordan Schultz of ESPN (Twitter link). According to Schultz, Ilyasova is expected to officially sign on Wednesday after completing the COVID-19 protocol.
Ilyasova, who made his NBA debut back in 2006, has appeared in over 800 regular season contests for the Bucks and five other teams. In 2019/20, he averaged 6.6 PPG and 4.8 RPG with a .466/.365/.828 shooting line in 63 games (15.7 MPG) for Milwaukee.
Last season's 36.5% mark from three-point range matches Ilyasova's career rate, and his ability to stretch the floor from the power forward spot has been valuable over the years. While he's not the most switchable or versatile defender, the 33-year-old has shown an uncanny knack over the years for taking charges on the defensive end.
Utah has had plenty of success this season with a forward rotation that includes Bojan Bogdanovic, Joe Ingles, Royce O'Neale, and Georges Niang, so it's unclear if Ilyasova will see action outside of garbage time or if he'll simply provide some extra frontcourt depth.
The Jazz had been carrying 13 players on standard contracts since waiving Shaquille Harrison on February 24. Since the NBA allows teams to dip below the required 14-player minimum for only two weeks at a time, they needed to add a player before the second half got underway this week, as we detailed on Monday. After signing Ilyasova, Utah will still have an open spot on its 15-man roster, but won't have to fill it immediately — or at all.
Ilyasova will earn $17,567 per day for the rest of the regular season, with Utah's cap hit working out to $11,100 per day. The exact rest-of-season figures will depend on when he officially signs — assuming it happens on Wednesday, he'll earn $1,194,542 with a cap charge of $754,783.
Photo courtesy of USA Today Sports Images.