With the March 25 trade deadline fast approaching, Hoops Rumors is taking a closer look at players around the NBA who are candidates to be moved this month, breaking them down into several categories based on their age, contracts, on-court value, and other categories. Today, we'll zero in on young players on buyers who could be moved as their teams explore upgrades.

Playoff contenders and championship hopefuls who are in the market for roster upgrades often rely on first- and second-round draft picks to acts as sweeteners in their trade offers. But for clubs that have already traded away many of their future picks or simply prefer not to sacrifice draft capital, using promising young talent to build a package may be a more viable option.
In today's installment of our Trade Candidate series, we're focusing on young players who could (or should) be available if certain teams seeking roster upgrades make deals this month.
We've already looked at several restricted free-agents-to-be who may be trade candidates — we won't repeat them here, which is why young players like John Collins, Kendrick Nunn, and Talen Horton-Tucker don't show up in the space below.
Additionally, since we're focusing on teams expected to be buyers, we won't be mentioning young players on presumed sellers who may benefit from a change of scenery (such as Marvin Bagley or Mohamed Bamba).
Let's dive in…
---
Non-rotation players: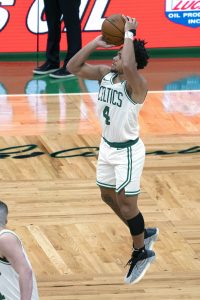 Some of the players in this group have been regulars for their respective teams at times this season, but none are currently playing 15-20 minutes per night.
Although we're grouping all of these players together, that doesn't mean their values are roughly identical. Players like Bol or Smith are developmental prospects who are still relatively raw and are viewed as having upside, whereas someone like Knox – who is in his third season but has still been unable to carve out a regular role – has seen his value dip since being drafted in the lottery.
Other players in this group, such as Elleby and Oturu, were second-round picks and were never considered premium prospects, but still could have some value to teams that view them as potential role players.
The players here could be used to sweeten a trade offer, but – with a few exceptions – likely wouldn't be the centerpiece of any deal for a difference-maker.
---
Regular rotation players:
Kevin Huerter and Cam Reddish, Hawks
Anfernee Simons and Nassir Little, Trail Blazers
Tyrese Maxey, Shake Milton, Matisse Thybulle, and Furkan Korkmaz, Sixers
Payton Pritchard, Celtics
Donte DiVincenzo, Bucks
Aaron Holiday, Pacers
Precious Achiuwa, Heat
Terance Mann, Clippers
Nicolas Claxton, Nets
Josh Okogie, Jarrett Culver, Jaden McDaniels, Naz Reid, and Jaylen Nowell, Timberwolves
This is a more intriguing group than the first, even if there may not be any future All-Stars in the bunch.
Huerter and Reddish are part of the second tier of Hawks' young players, behind presumed untouchables Trae Young and De'Andre Hunter. If Atlanta takes a big swing at the deadline, it's a safe bet that at least one of Huerter and Reddish would be among the outgoing pieces.
Simons, Holiday, and Mann have received glowing reviews from their respective teams over the years, but have yet to break out and should be available in the right deals. Meanwhile, the Bucks have already shown that DiVincenzo is available in the right trade, having reportedly agreed to send him to Sacramento last fall in a sign-and-trade for Bogdan Bogdanovic before that deal fell apart.
It would probably take a lot for the Sixers, Celtics, and Heat to part with promising rookies Maxey, Pritchard, and Achiuwa (Maxey's inclusion in a James Harden offer was reportedly a point of contention), but they shouldn't be off-limits, even if Philadelphia would probably rather move Thybulle and/or Korkmaz.
Including any Timberwolves players here may seem odd, since they have the NBA's worst record. But even if they're not traditional "buyers," they've been linked to power forwards like John Collins and Aaron Gordon. They'd want to hang onto Anthony Edwards in any such deal, so any of their other young players would probably be available.
---
Would likely only be available for a star-caliber player:
If Bradley Beal were available, these players are the kinds of prospects the Wizards would presumably be targeting. But since Beal, Zach LaVine, and most other All-Star caliber players aren't expected to be in play at this year's deadline, it's unlikely we'll see any of these youngsters on the move. The one exception could be Herro, if the Magic get serious about moving Nikola Vucevic.
---
Photos courtesy of USA Today Sports Images.