MARCH 26: The trade is now official, according to announcement from thes Mavericks (Twitter link) and Pelicans.
---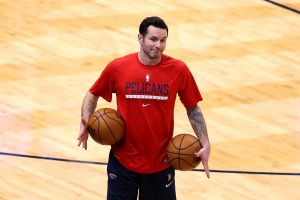 MARCH 25: The Pelicans won't be trading point guard Lonzo Ball at today's deadline, according to ESPN's Adrian Wojnarowski (Twitter link). However, New Orleans has agreed to a deal that will send J.J. Redick to the Mavericks, reports Shams Charania of The Athletic (Twitter link).
The Pelicans will receive James Johnson, Wesley Iwundu, and a 2021 second-round pick in exchange for Redick and Nicolo Melli, a source tells Andrew Lopez of ESPN (Twitter links). New Orleans also received cash from the Mavericks in the deal, tweets Marc Stein of The New York Times.
Charania initially reported that the Redick deal would be a three-team trade that also sent Trey Lyles from the Spurs to Dallas, but has since clarified that it will just be a direct trade between the Pelicans and Mavs.
Redick, who was averaging 8.7 PPG in 31 appearances off the bench, had expressed a desire to be dealt to a team in the Northeast, where his family resides. He'll have to wait until the offseason to make that happen but he'll provide the Mavericks with another 3-point threat off the bench. He'll be an unrestricted free agent.
Melli reportedly wanted out after seeing his playing time decline in his second NBA season. He's only appeared in 22 games this season. He can be a restricted free agent if Dallas decides to extend a $4.87MM qualifying offer. The Mavs will keep Melli at least through the end of this season, Brad Townsend of the Dallas Morning News tweets.
Johnson has an expiring $16MM contract. He's averaging 5.7 PPG and 3.0 RPG in 29 games this season and gives the Pelicans another frontcourt option. Iwundu has seen action in 23 games this season but has only averaged 2.1 PPG in 12.5 MPG during those outings. He has another year left on his contract but his 2021/22 salary is just $1.82MM.
As for Ball, the Bulls, Knicks, Clippers, Nuggets and Sixers had all been linked to the former No. 2 pick to varying degrees in recent weeks, but New Orleans didn't find a package attractive enough to deal its current floor leader.
The Pelicans will have to decide after the season whether to extend Ball a $14.36MM qualifying offer and make him a restricted free agent, or let him enter the market unrestricted. Assuming they extend that QO, as is expected, they'll then have to weigh how aggressive they're willing to be when it comes to a long-term contract offer.
Ball is averaging 14.2 PPG and 5.6 APG for the Pelicans, who are a disappointing five games below .500.
Photo courtesy of USA Today Sports Images. Dana Gauruder contributed to this post.