APRIL 5: The signing is official, according to a team press release.
---
APRIL 4: The Clippers will add Cousins this week, provided he clears COVID-19 protocols, Charania tweets.
---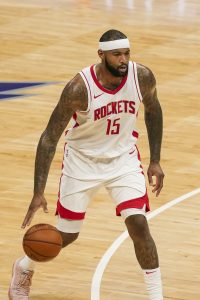 MARCH 31: The Clippers plan to sign free agent center DeMarcus Cousins, pending clearance of the NBA's health and safety protocols, according to Shams Charania of The Athletic (Twitter link). Sources tell Charania that Cousins is in Los Angeles and is beginning to go through the testing protocols (Twitter link).
ESPN's Adrian Wojnarowski first reported (via Twitter) that Cousins and the Clippers were discussing a 10-day contract, adding that a decision isn't expected to be finalized until next week.
Los Angeles is currently carrying just 13 players on standard contracts, and the NBA's required minimum is 14. However, the league allows teams to dip below that minimum for up to two weeks at a time, and the Clippers don't have to add a 14th man until next Monday, so they may use that full two-week window before officially signing Cousins.
Cousins, 30, began the season with the Rockets after missing all of 2019/20 due to an ACL tear. The four-time All-Star didn't exactly look like his old explosive self in Houston, averaging 9.6 PPG and 7.6 RPG on just 37.6% shooting in 25 games (20.2 MPG). He also wasn't particularly mobile on defense. The Rockets ultimately decided to part ways with the veteran center, releasing him last month.
Still, Cousins has some remaining upside as last year's ACL surgery moves further into his rear view, and the Clippers are in need of a third center behind Serge Ibaka and Ivica Zubac, as Wojnarowski tweets.
It doesn't hurt that Cousins has long-standing relationships with a handful of Clippers players, including former teammates Rajon Rondo (Kings, Pelicans, Lakers) and Patrick Patterson (Kentucky, Kings), notes Charania (Twitter link).
Assuming Cousins and the Clippers officially finalize a 10-day deal, it'll pay him nearly $176K, with the Clippers taking on a $111K cap hit. Cousins would be able to sign up to two 10-day contracts with L.A. before the team would have to either let him go or sign him to a rest-of-season deal.
Photo courtesy of USA Today Sports Images.