APRIL 28: The Blazers have officially signed Hollis-Jefferson to a deal for the rest of the season, the team announced in a press release.
---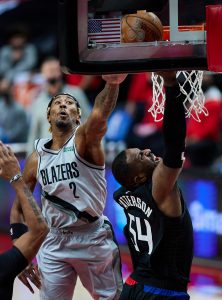 APRIL 27: With the second 10-day contract he signed with the Trail Blazers set to expire, defensive-oriented reserve forward Rondae Hollis-Jefferson will ink a deal that will keep him in Portland for the rest of the 2020/21 season, tweets Adrian Wojnarowski of ESPN.
Because a player is not permitted to sign a third 10-day deal with a team during the same season, it became decision time in a hurry for Portland.
Hollis-Jefferson was actually selected with the No. 23 pick by Portland out of Arizona in 2015, but the Trail Blazers traded him to the Nets before he ever suited up for them. He spent four seasons in Brooklyn before landing with the Raptors for the 2019/20 season.
The 26-year-old Jefferson has appeared in just five games (including one start) for the Trail Blazers this season, averaging a respectable 12.6 MPG, but the athletic forward could help shore up the club's frontcourt with his ability to cover multiple positions on defense.
If Jefferson officially completes his new deal on Wednesday after his second 10-day expires tonight, he'll make $245,031 over the course of the season's final 19 days. Portland's cap hit would be $210,895.
Photo courtesy of USA Today Sports Images.