1:17pm: The Bucks have announced (via Twitter) that Holiday's extension is now official.
---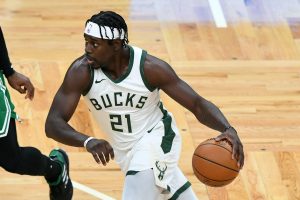 11:34am: The Bucks have reached an agreement on a four-year maximum extension with guard Jrue Holiday, tweets Shams Charania of The Athletic. Agent Jason Glushon confirms the deal, which could be worth as much as $160MM.
Holiday has been considering the extension since being acquired in a November trade, Charania adds (via Twitter). He wanted to get more familiar with the roster, coaching staff and front office before making a commitment. Charania notes that Milwaukee now has long-term deals with its three stars: Holiday, Giannis Antetokounmpo and Khris Middleton (Twitter link).
The agreement means Holiday will bypass an opportunity to become a free agent this summer. His current contract contained a $26.765MM player option for next season.
Holiday, 30, has been considered one of the NBA's top two-way players for several years, but Milwaukee provides his best chance to compete for a title since he entered the league in 2009. He's averaging 17.0 points, 4.6 rebounds, 5.4 assists and a league-best 1.8 steals per game in his first season with the Bucks.
The first season of a veteran contract extension can have a starting salary worth up to 120% of the player's previous salary. Although Holiday has a cap hit of just $25,876,111 in 2020/21 for the time being, that figure doesn't account for a handful of incentives, which bump up his maximum starting salary further.
According to ESPN's Adrian Wojnarowski, the four-year extension has a base value of about $135MM, which means it'll start at approximately $30.13MM. It can be worth up to a total of $160MM with incentives, though Holiday is unlikely to earn all those bonuses.
Photo courtesy of USA Today Sports Images.