The Cavaliers have officially brought back longtime center Anderson Varejão, announcing today in a press release that they've signed him to a 10-day contract. The move had been expected once Cleveland was granted a hardship exception, which allows the team to carry an extra player.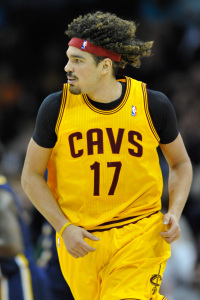 If it feels like it's been a while since you've seen Varejão in the NBA, you're not wrong — the 38-year-old big man played his last NBA game on February 2, 2017 before being waived by the Warriors a day later. He spent two years playing professionally in Brazil after that, but has been inactive since 2019.
The Cavaliers view their reunion with Varejão as a "celebratory contract" for a player who spent over a decade with the franchise, as Chris Fedor of Cleveland.com wrote last week. It's probably safe to assume Varejão won't be a regular rotation player for the Cavs during the next 10 days, but he's expected to see a little action before he officially calls it a career.
"Andy embodies all that the city of Cleveland stands for and beyond, and we couldn't be more excited to bring his experience, leadership and character back into this locker room," Cavaliers general manager Koby Altman said in a statement. "His infectious work ethic and commitment to our community have earned him his rightful place in the fabric of this organization and all of Northeast Ohio, and have established a genuine admiration that resonates strongly throughout our passionate fan base.
"There are not many athletes who can impact the game of basketball the way Andy has over his career, and I feel that our players will benefit greatly from their daily interaction with him. We are thrilled to welcome Andy and family back to the Cavaliers."
Varejão, who put out his own statement expressing gratitude to Altman and team owner Dan Gilbert for the opportunity, spent 13 seasons in the NBA, including over 11 with Cleveland. In 591 career regular season games with the franchise, he averaged 7.6 points and 7.5 rebounds per contest. He also played in 71 postseason games with the Cavs before finishing his career with the Warriors.
Because a contract signed using a hardship exception can only be a 10-day deal, Varejão's contract – which will pay him $175,668 – will only run through May 13. Assuming the Cavs still meet the criteria for the hardship provision, they could sign him to a rest-of-season contract after that if they want to retain him for the last two games of the season.
Photo courtesy of USA Today Sports Images.