Throughout the season, Hoops Rumors takes a closer look at players who will be free agents or could become free agents this off-season. We examine if their stock is rising or falling due to performance and other factors. This week, we take a look at players from the Southeast Division: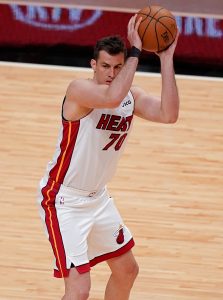 Nemanja Bjelica, Heat, 32, PF (Down) – Signed to a three-year, $20.5MM deal in 2018
There was a lot of bellyaching in Sacramento this season when Bjelica's minutes were basically handed to Marvin Bagley III, as the Kings evaluated whether to make the 2018 No. 2 overall pick part of their long-term plans. Bjelica didn't play for a month until injuries forced the Kings' hands in February. He got a fresh start with Miami when it acquired him at the trade deadline. It hasn't worked out.
Bjelica has been a non-factor while playing spot minutes. His 3-point shooting has tanked without steady playing time and that's his top asset. Bjelica might wind up back in Europe unless he's willing to accept a second-unit role at a much lower salary than he's made the last three seasons.
Daniel Gafford, Wizards, 22, PF/C (Up) – Signed to a four-year, $6.1MM deal in 2019
When NBA analysts look at which trade deadline acquisitions have made the biggest impact, no one would have guessed that Gafford would be at or near the top of the list. He's limited offensively but on his best nights, he's a ferocious rebounder and shot-blocker.
Gafford is averaging 10.4 PPG, 5.9 RPG and 2.0 BPG in 17.9 MPG for a team that has been decimated by frontcourt injuries. His $1.78MM salary for next season doesn't fully guarantee until next January. The Wizards hold a $1.93MM option on the 2022/23 season. Rest assured, Washington will keep Gafford around.
John Collins, Hawks, 23, PF (Up) – Signed to a four-year, $11MM deal in 2017
Collins could be the most intriguing free agent on the market this summer. The Hawks can make him a restricted free agency by extending him a $7.7MM qualifying offer. That's a safe assumption. From there, things will get very interesting. Collins' name was bandied about in trade rumors this winter – he reportedly turned down a $90MM extension offer with the hope of getting the max, or something close to it, in restricted free agency. Does any other team value Collins as a max-type player? We'll find out when the market opens.
James Ennis, Magic, 30, SF (Down) – Signed to a one-year, $3.33MM deal in 2020
The Magic brought back Ennis on a one-year deal for a team with playoff aspirations. Ennis was a starter the first half of the season until the front office decided to hit the reset button. With Orlando in total rebuild mode, Ennis will be seeking a new team this summer.
With the Magic focusing on their youth, Ennis hasn't played this month, supposedly due to a sore calf. He's passed through seven teams during his seven seasons in the league. Ennis will likely be looking at a one-year, veteran's minimum deal for a club seeking insurance at small forward.
Photo courtesy of USA Today Sports Images.