MAY 13, 3:38pm: Toscano-Anderson has officially signed his new contract with the Warriors, the team confirmed in a press release. Bell's two-way deal is also official, according to a second release from the club.
---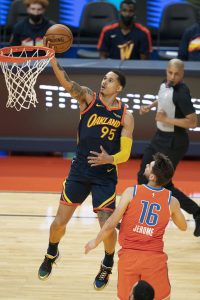 MAY 13, 11:51am: Toscano-Anderson will receive a two-year contract that is worth more than the prorated minimum in 2020/21 and includes a fully guaranteed minimum salary for '21/22, according to Charania and Slater (Twitter link). He'd then in be on track for restricted free agency in 2022.
With the Warriors set to complete their two roster moves, Bell is expected to be available for the team on Friday night, Slater adds (via Twitter).
---
MAY 7: The Warriors intend to promote two-way player Juan Toscano-Anderson to their 15-man roster and will sign big man Jordan Bell to a two-way contract to replace Toscano-Anderson, according to Shams Charania and Anthony Slater of The Athletic (Twitter link). The two moves will likely be completed next week.
The report doesn't come as a real surprise. Having dipped to 13 players on standard contracts following the expiration of Gary Payton II's 10-day deal last week, Golden State has to add a 14th man by next Thursday. Slater had previously suggested this exact scenario, noting that Bell had been linked to the team and Toscano-Anderson has earned a promotion from his two-way deal based on his play this season.
Toscano-Anderson, 28, has emerged as a reliable rotation player for Golden State over the course of the 2020/21 campaign, averaging 5.4 PPG, 4.2 RPG, and 2.6 APG with an impressive .584 FG% and .408 3PT% in 48 games (19.9 MPG). His performance has been crucial for a team missing some players on the wing, including injured All-Star Klay Thompson.
According to Slater (via Twitter), the terms of Toscano-Anderson's new contract are still being finalized, so it's unclear how much money beyond this season will be guaranteed or how many years the deal will cover. Golden State still has a portion of its taxpayer mid-level exception left, which could be used to lock up JTA for up to three years (through 2022/23).
As for Bell, his familiarity with the Warriors and Steve Kerr's system will allow him to step in right away and potentially contribute in the play-in tournament and/or the postseason, adding some depth to the Warriors' frontcourt. Since this is his fourth year in the NBA, it's the last season in which he's eligible to sign a two-way contract.
Photo courtesy of USA Today Sports Images.