After missing the postseason for the first time in 23 years in 2019/20, the Spurs didn't exactly bounce back with a vengeance in '20/21. Their 33-39 record was just a half-game improvement over the year before, and while San Antonio earned a spot in the play-in tournament, the team was quickly eliminated by Memphis, missing the playoffs two years in a row for the first time in franchise history.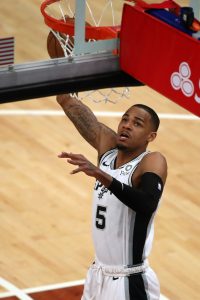 San Antonio's struggles can be traced back to an inability to maximize the return for All-NBA forward Kawhi Leonard in 2018. That wasn't entirely the team's fault – Leonard's injury situation and his discontent with the organization hurt his value – but it was a problem.
The Spurs haven't been bad enough in recent years to land high in the lottery and potentially draft a new franchise player. As a result, the club that went from David Robinson to Tim Duncan to Leonard now lacks a cornerstone for its next phase.
Still, given where the Spurs have drafted in recent years, there's plenty of promising young talent on the roster, including Dejounte Murray, Derrick White, Keldon Johnson, Lonnie Walker, and Devin Vassell, so it's not as if the cupboards are totally bare going forward. San Antonio still has one of the league's better developmental programs, and as long as those youngsters continue to improve, it shouldn't be much longer until the team is back in the postseason.
---
The Spurs' Offseason Plan:
With the exception of the occasional major move – such as the Leonard trade in 2018 or the signing of LaMarcus Aldridge in 2015 – the Spurs can rarely be counted on for action-packed offseasons that feature a bunch of roster turnover. Their general preference is to identify guys they like and then to keep re-signing them, favoring continuity and development over constantly seeking out potential upgrades.
Having said that, if the Spurs do want to significantly turn over their roster, this would be the time to do it. Aldridge departed earlier this year, highly-paid veterans DeMar DeRozan, Rudy Gay, and Patty Mills are among the team's five unrestricted free agents, and the club currently has less than $57MM in guaranteed salary on its books for 2021/22.
While the opportunity is there, I wouldn't expect the Spurs to renounce all their vets to create the cap room necessary to make a run for a top restricted free agent such as John Collins. They could surprise me, but it just doesn't feel like their M.O.
There are rumors that DeRozan may look to sign elsewhere, however. In that case, perhaps the Spurs focus on re-signing Mills and Gay. If the team can bring back that duo for a combined 2021/22 cap hit of about $25-30MM, it would still leave enough room to make a play at a second- or third-tier free agent or two.
Lauri Markkanen would be an intriguing target as a reclamation project, since the former lottery pick has seen his value dip a little in Chicago. Josh Hart and Bruce Brown also strike me as Spurs-type players.
However, all of those guys are restricted free agents, so San Antonio would either have to be aggressive with an offer sheet, work out a sign-and-trade, or hope that the player's current team is only lukewarm on bringing him back. That may be the case with Markkanen and the Bulls, but I imagine the Pelicans and Nets will prioritize Hart and Brown, respectively.
Kelly Olynyk, Otto Porter, JaMychal Green, and Kelly Oubre are among the unrestricted free agents I could envision as fits for the Spurs. Justise Winslow might also be an intriguing target if the Grizzlies don't pick up his $13MM option.
Of course, the big question looming over the Spurs is how much longer Gregg Popovich will patrol the team's sidelines. A year or two ago, there was speculation that the NBA's longest-tenured head coach would retire after coaching Team USA at the 2020 Olympics. The Tokyo games have since been pushed back a year and there's still no indication that Popovich plans to call it career once they conclude. But he's 72 years old, so it's hard to imagine his run as the Spurs' coach will last too much longer.
---
Salary Cap Situation
Note: Our salary cap projections are based on a presumed 3% increase, which would result in a $112.4MM cap for 2021/22.
Guaranteed Salary
Derrick White ($15,678,571)
Dejounte Murray ($15,428,880)
Jakob Poeltl ($8,750,000)
Lonnie Walker ($4,447,896)
Devin Vassell ($4,235,160)
Luka Samanic ($2,959,080)
Keldon Johnson ($2,145,720)
Tre Jones ($1,517,981)
DeMarre Carroll ($1,242,340) — Bought out.
Drew Eubanks ($500,000) — Partial guarantee. Non-guaranteed portion noted below. 1
Total: $56,905,628

Player Options
Team Options
Non-Guaranteed Salary
Restricted Free Agents
Two-Way Free Agents
Draft Picks
No. 12 overall pick ($3,946,800)
No. 41 overall pick (no cap hold)
Total: $3,946,800
Extension-Eligible Players
Lonnie Walker (rookie scale)
Unrestricted Free Agents / Other Cap Holds
DeMar DeRozan ($39,344,970): Bird rights 4
Rudy Gay ($21,750,000): Bird rights
Patty Mills ($20,303,571): Bird rights
Marco Belinelli ($7,600,000): Early Bird rights 5
Trey Lyles ($7,150,000): Early Bird rights
Dante Cunningham ($2,984,400): Non-Bird rights 5
Nikola Milutinov ($2,096,880) 6
Gorgui Dieng ($1,669,178): Non-Bird rights
Joffrey Lauvergne ($1,669,178): Non-Bird rights 5
David Lee ($1,669,178): Non-Bird rights 5

Donatas Motiejunas ($1,669,178): Non-Bird rights 5
Quincy Pondexter ($1,669,178): Non-Bird rights 5
Total: $109,575,711

Offseason Cap Outlook

Taking into account the cap hold for their lottery pick, the Spurs have about $61MM committed to nine roster spots, putting them in position to open up a serious chunk of cap room. However, they also have nearly double that amount in options, non-guaranteed salary, and free agent cap holds, meaning they could very well operate as an over-the-cap team to start the offseason.
The Spurs' decision on DeRozan may dictate whether or not they dip below the cap. If he re-signs at a salary close to this season's $27.7MM figure, staying over the cap probably makes sense, but if he walks for nothing, the club might as well take advantage of its financial flexibility.
Cap Exceptions Available
Room exception: $4,910,000 7
Footnotes
Eubanks' salary becomes fully guaranteed after August 20.
Jeffries will be eligible for restricted free agency if his option is declined.
Because he has been on a two-way contract with the Spurs for two seasons, Weatherspoon is eligible for a standard minimum-salary qualifying offer.
This is a projected value. DeRozan's cap hit will be either the maximum salary for a player with 10+ years of NBA service or $41,609,963 (whichever is lesser).
The cap holds for these players remain on the Spurs' books from prior seasons because they haven't been renounced. They can't be used in a sign-and-trade deal.
The 26th overall pick in 2015, Milutinov has yet to sign his rookie scale contract. His cap hold will remain on the Spurs' books unless the team receives permission to remove it, which would ensure Milutinov won't be signed in 2021/22.
This is a projected value. If the Spurs operate over the cap, they'd have the mid-level exception ($9.5MM) and the bi-annual exception ($3.7MM) available.
Salary and cap information from Basketball Insiders and RealGM was used in the creation of this post.